March Keeps Heat on Rousseff as Worst Slump Since 1931 Looms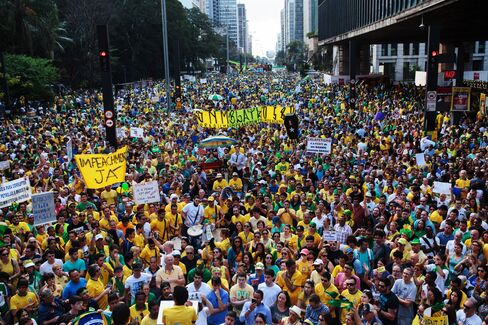 Nationwide street protests Sunday against the government kept the pressure on embattled Brazilian President Dilma Rousseff as the country heads to its longest recession since 1931.
More than half a million people took to the streets to denounce corruption and economic mismanagement amid calls for Rousseff's impeachment or resignation. While the rally drew fewer people than similar demonstrations in March, rising unemployment and the fastest inflation in more than a decade will keep Rousseff under fire.
"The crisis has greatly impacted the economy: people don't have credit, lost their jobs and are no longer able to go shopping," Jankiel Santos, chief economist at investment bank BESI Brasil, said. "It's hard to imagine any respite for the government's popularity stemming from the economy."
Rallies this weekend in cities from Natal to Sao Paulo were more focused on attacking Rousseff and her Workers' Party than the two previous protests earlier this year. The turnout was neither weak enough to be dismissed nor strong enough to decisively demand action from lawmakers weighing the possibility of impeachment, according to Joao Paulo Peixoto, a political science professor at the University of Brasilia.
Low Popularity
"The tendency of the protests is to lose some of their force, but they are still very important," Peixoto said. "I think they're going to continue, and that's a concern for the government."
Market reaction was mixed, with the real oscillating between gains and losses on Monday as analysts surveyed by the central bank projected the economy will contract for two straight years for the first time in 84 years. The real traded 0.4 percent lower at 3.4667 per U.S. dollar in late morning trading in Sao Paulo.
Rousseff is facing the lowest popularity on record for a Brazilian president with only 8 percent of participants in a survey saying their president is doing a good job, according to an Aug. 4-5 poll by Datafolha. More than two-thirds of respondents said they support impeachment, the poll showed.
Prosecutors are looking into the alleged involvement of more than 30 politicians in a corruption case involving the state-run oil company Petroleo Brasileiro SA. Rousseff is not under investigation.
Rousseff ought to resign or present a clear plan to emerge from crisis, the country's former head of state, Fernando Henrique Cardoso, said on his Facebook page Monday.
Providing Relief
Members of the government described Sunday's protests as "normal" for a democracy, according to Social Communication Minister Edinho Silva, who was among the cabinet members that met with Rousseff Sunday evening.
It's hard for the government's interaction with society to get much worse, according to Rafael Cortez, a political analyst at research company Tendencias. He said time will provide some relief for the government, and Rousseff, while weakened, should manage to hang on to power for the rest of her term.
The "protests aren't going to alter the political balance in Congress, which is a positive result for the government," Cortez said.
Rousseff also needs cooperation from lawmakers in the Congress to pass austerity measures and avoid new bills that mandate additional government spending. The Senate last week showed signs it would be more collaborative with her administration than the lower house, giving some relief to political tensions.
Rapid Deterioration
"While Ms. Rousseff is unlikely to be impeached for the time being, her authority and ability to push through key reforms have been severely undermined," Nicholas Spiro, managing director of London-based Spiro Sovereign Strategy said by e-mail. "The rapidly deteriorating political and social environment is just one of several factors currently weighing on Brazilian assets."
Latin America's biggest economy will contract 2.01 percent this year and 0.15 percent in 2016, according to a central bank survey of analysts published Monday. As inflation remains more than double its 4.5 percent target, the central bank has signaled it will keep interest rates high for a prolonged time, a move that is feeding into popular frustration with restricted consumer credit.
Before it's here, it's on the Bloomberg Terminal.
LEARN MORE