Emerging-Market Assets Fall With U.S. Stocks as Commodities Slip
The selloff in commodities deepened, spurring sharp declines in emerging-market assets and weighing on materials producers in the U.S. and Canada.
Copper and silver led a renewed slump in commodities amid speculation China's economy will face further headwinds. Shares in Shanghai dropped the most in three weeks, while the outlook for higher interest rates from the Federal Reserve also curbed demand for riskier assets. U.S. stocks slipped through their average price for the past 100 days as commodity producers fell.
"The news out of China set investors back on their heels a bit today," said Mark Luschini, chief investment strategist in Philadelphia at Janney Capital Management LLC, which oversees about $68 billion. "Investors are feeling very uncertain these days. You can't get any definitive traction in the market."
The MSCI Emerging Markets Index dropped 0.8 percent by 5 p.m. in New York, to its lowest close since October 2011. Thailand's baht fell to a six-year low after the deadly bomb explosion and Turkey's lira declined to a record low. The Standard & Poor's 500 Index slipped 0.3 percent as Wal-Mart Stores Inc. declined after cutting its earnings forecast, while Home Depot Inc. surged on an improved profit and sales outlook.
Concern over the impact on global growth comes as the Fed signals it's on track raise rates this year. Minutes of the central bank's last meeting will come under scrutiny Wednesday, with market expectations of a September hike falling to about 48 percent from around 50 percent last week.
Housing Data
Data Tuesday showed new-home construction in the U.S. climbed in July to the highest level in almost eight years, while a drop in permits, a proxy for future construction, signals additional gains will take time to develop.
"We don't have any direction here and now you have the question of what the Fed is going to do," said Bill Schultz, who oversees $1.2 billion as chief investment officer at McQueen, Ball & Associates Inc. in Bethlehem, Pennsylvania. "Obviously they'd like to raise by 25 basis points, but do they have enough ammo to do so? That is still unclear."
Chinese stocks tumbled, with the Shanghai Composite Index sliding 6.2 percent as traders reduced bets on further stimulus and speculated the government will pare back efforts to prop up equities after data showed home prices rose.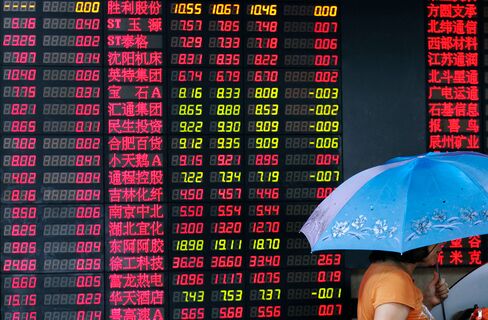 The declines came a week after China's first major yuan devaluation since 1994 surprised global investors and fueled concern authorities are struggling to combat a slowdown in the world's second-largest economy.
More Concerned
"Since China devalued the currency last week, investors have become more concerned about the growth outlook for emerging markets," Michael Wang, a London-based strategist at Amiya Capital LLP, who recommends selling emerging-market stocks, said by e-mail. "We need to get the first Fed rate hike out of the way. We also need more evidence that the near-term outlook for China's economy is stabilizing."
The Bloomberg Commodity Index fell 0.6 percent to the lowest level since February 2002. The gauge of 22 raw materials declined for a sixth day in the longest run of losses in more than a year.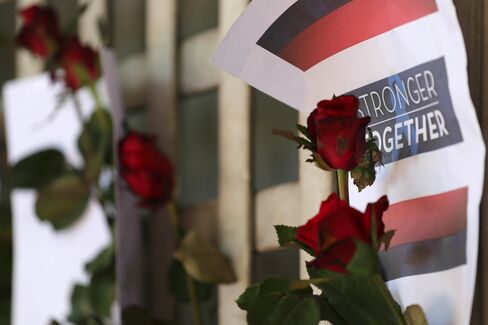 Oil rose from near its lowest price in six years in New York on speculation data Wednesday will show U.S. stockpiles declined for a fourth week. West Texas Intermediate crude oil added 1.8 percent to $42.62 a barrel after earlier slipping as much as 1.1 percent.
Copper futures dropped as much as 1.6 percent to settle at $5,035 a metric ton in London, the lowest price since 2009. Aluminum also reached a six-year low, and lead, nickel and zinc retreated.
Gold futures for December delivery slid 0.2 percent to $1,116.30 an ounce in New York, headed for the third drop in four sessions. The jump in U.S. new-home construction boosted the case for higher rates.
Before it's here, it's on the Bloomberg Terminal.
LEARN MORE