Ringgit in Soros-Like Selloff Reviving Memories of 1998 Crisis
The ringgit's steepest slide since 1998 is evoking memories of the clash between then-Prime Minister Mahathir Mohamad and hedge-fund manager George Soros.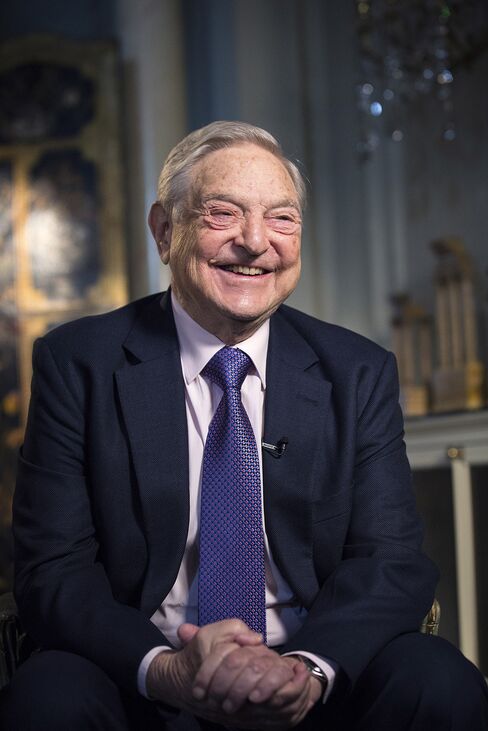 The currency slid 3.8 percent against the dollar last week as central bank Governor Zeti Akhtar Aziz said Thursday foreign-exchange reserves will need to be rebuilt after they fell below $100 billion for the first time since 2010. She ruled out introducing a currency peg or capital controls, the solutions Malaysia turned to 17 years ago when faced with a tumbling exchange rate. Mahathir blamed foreign investors for the demise of the ringgit and labeled Soros a "moron" for his part in it.
"The fallout is reviving memories of hedge-fund attacks in the 1997/98 crisis," Chua Hak Bin, an economist at Bank of America Merrill Lynch in Singapore, said Friday in an interview. "We don't think capital controls are likely, but cannot rule out the risk given the rapid depletion of foreign reserves."
Malaysia's currency leads losses in Asia for the past year with a 23 percent drop, battered by a political scandal, the yuan's devaluation, slumping oil prices and the prospect of higher U.S. interest rates. That compares with a 30 percent slide in the 12 months before Mahathir imposed capital controls in September 1998 and some investors say the risk of a repeat is fueling an exodus of money from Malaysia.
The ringgit has retreated in each of the past eight weeks and slid 0.6 percent on Monday to close at 4.1030 per dollar in Kuala Lumpur. It earlier fell to a 17-year low of 4.1340. Bank Negara Malaysia declined on Friday to comment on the move and on whether it was intervening in the market.
'Draconian' Responses
Malaysia has a "history of draconian policy responses" and that may be spurring the flow of funds from the country as the currency weakens, said Alan Richardson, a Hong Kong-based money manager at Samsung Asset Management Ltd., which oversees about $112 billion.
Global funds held 32 percent of Malaysian sovereign bonds in July, compared with 17 percent for Thailand, according to the latest available central bank data.
There's "fear in the market that they would impose macro-prudential measures to limit outflows," said Anthony Chan, Asian sovereign strategist at AllianceBernstein LP, which oversees $485 billion globally.
The benchmark stock index had its lowest close since 2012 on Monday, while the yield on 10-year government bonds climbed to the highest level in more than five years. Overseas investors cut holdings of sovereign and corporate notes by 2.4 percent in July to 206.8 billion ringgit ($50.2 billion), the least since August 2012, official data showed last week.
Mahathir's Peg
"There are similarities to the 1997/1998 crisis," said Gerald Ambrose, who oversees the equivalent of $3.6 billion as managing director of Aberdeen Asset Management Sdn. in Kuala Lumpur. "There's a certain amount of emotions involved, a certain amount of panic but I think not so much from the equity market. The real worry is Malaysian government securities, where foreign ownership levels are much higher."
Back in 1998, Mahathir ignored the advice of the International Monetary Fund in taking the steps he did to stabilize the ringgit, including a peg of 3.8 to the dollar. The IMF, which called the currency link a "retrograde step" at the time, later acknowledged it was a "stability anchor."
A 17 percent slide in foreign-exchange reserves this year to $96.7 billion at the end of July suggests the central bank had been intervening to prop up the ringgit, just as Prime Minister Najib Razak faces a probe of fund transfers into his personal bank accounts. Political machinations were among the causes of the ringgit's decline, the prime minister wrote in his blog on Thursday.
"I think there is a concerted effort to test Bank Negara Malaysia's reserves," said Mixo Das, an equities strategist at Nomura Holdings Inc. in Singapore. "Sentiment is bad, which is why the central bank needs to break the cycle. Public comments by Zeti or others at BNM would be useful."
Before it's here, it's on the Bloomberg Terminal.
LEARN MORE