Russia Sales Outlook Worst in BRIC Markets on Oil, Recession
Micex companies seen posting 17% revenue decline in next year

GDP forecast to contract 3.6% in 2015 as crude prices slump
Russia is the standout these days among the biggest emerging markets, but for all the wrong reasons.
Beset by the country's first recession since 2009, oil selling at half its five-year average price and international sanctions linked to the Ukraine conflict, Russian companies are poised to post the biggest drop in sales among the four so-called BRIC nations, data compiled by Bloomberg show. Two of the others, Brazil and India, also are projected to slump, while China is seen growing modestly.
The 50 companies listed in the benchmark Micex Index will post an average 17 percent ruble-denominated revenue decline in the next 12 months, according to analysts' estimates. In dollar terms, the forecast is for a 25 percent slump. Sales for companies on the Standard & Poor's 500 Index, the benchmark for U.S. equities, are projected to increase 2.5 percent.
Russia's gross domestic product is contracting as a slide in energy prices and sanctions including international financing restrictions hammered the ruble and shook an economy that relies on oil and gas for about half its government budget revenue. Analysts have been widening their estimates for this year's GDP slump and don't see growth resuming until the second quarter of 2016.
"You factor in a plunge in oil, a rout in the ruble and a deteriorating macroeconomic situation, and you see that there are not too many reasons to be optimistic," Paul Christopher, the St. Louis-based Chief International Investment Strategist at Wells Fargo Investment Institute, which oversees $1.7 trillion, said by phone. "This is what happens when the economy is built around oil."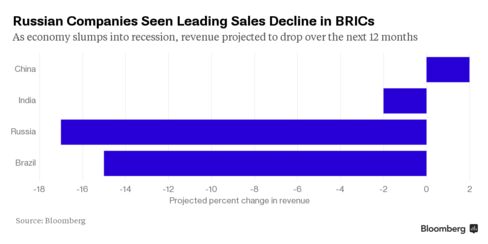 The economy of the world's largest energy exporter, which expanded an average 5.6 percent during the first decade of the 2000s, will probably contract 3.6 percent this year and grow just 0.5 percent in 2016, according to the average of 40 analyst estimates compiled by Bloomberg. Russia's ruble is once again the worst performer in emerging markets, weakening 23 percent in the past three months after the best performance among major currencies earlier this year.
Plunging commodity prices, a stronger dollar and China's economic slowdown have crimped growth throughout developing nations. Brazilian assets have slumped amid a government corruption probe, impeachment speculation and a sovereign rating cut. In China, policy makers devalued the currency last week in the latest move to try to boost the slowest economic growth in 25 years. In India, pressure has been mounting to accelerate fiscal and regulatory reforms that Prime Minister Narendra Modi has struggled to implement.
"Russia seems to be hit the hardest," Wells Fargo's Christopher said. "Nowhere else do you see this combination of an oil rout, a decline in the ruble and restrictions on external financing."
Analysts expect sales to slump 15 percent among companies in Brazil's Ibovespa Index over the next 12 months in local currency terms. Indian companies' sales are seen dropping 1.8 percent. Shanghai Composite Index members are projected to post a 2.3 percent increase.
The Micex Index will return 13 percent over the next year, according to analysts surveyed by Bloomberg. They forecast a 31 percent 12-month gain in January. The Micex rose 1.3 percent last week, widening its advance in 2015 to 23 percent. The advance pushed the gauge's 14-day relative strength index to 66, near the level of 70 that some technical analysts see as a signal a drop is imminent. The Bloomberg Russia-U.S. Equity Index slid 1 percent at 10:30 a.m. on Monday in New York after its first weekly gain since mid-July.
Brent Slump
"If the Micex index consisted mostly of consumer-oriented companies, the projected revenue decline would have been much bigger, as the effect of the ruble and oil rout would have fully taken its toll," Kirill Yankovskiy, director of equity sales at Otkritie Capital Ltd. in London, said by phone. "In the index dominated by energy companies, the effect of the crude slide is mitigated by the decrease in costs, which makes the situation much less dramatic."
Stocks on the benchmark Russian stock gauge are valued at 5.4 times projected earnings, the cheapest in emerging markets.
Brent crude, the oil grade traders use to price Russia's main export blend, fell less than 0.1 percent to $49.13 a barrel on Monday. Russia will endure a two-year economic contraction if crude prices remain at $60 through 2016, including a 1.2 percent slump next year, according to the central bank.
"The earnings story in places like Russia, but also for a country like Brazil, because of commodities, because of the currency and because of the economy is horrible, and it is the reflection of the current economic cycle,"
Geoffrey Dennis, head of global emerging-market strategy at UBS Securities, said by phone.
Before it's here, it's on the Bloomberg Terminal.
LEARN MORE