A border police officer gesticulates at a map of Switzerland as two migrants with backpacks are informed they've crossed into the Alpine nation from Italy, and that they have no right to be there without documents. It's an ordinary morning at the Chiasso train station.
Nestled between Italy's Como and the Alps, Switzerland's southernmost city sees 30 to 40 foreigners without papers arrive each day, seeking refuge or simply in transit before heading to Germany or Austria. In June that number peaked to roughly 150 to 200, according to Swiss border police.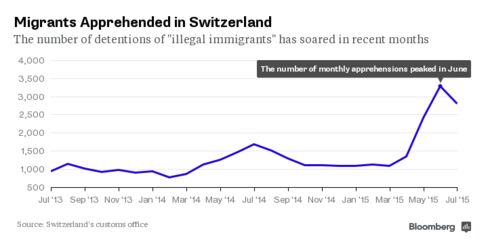 While the recent spike in migrants from the Middle East and Africa isn't as dramatic as in neighboring France or Italy, it comes at a time when the country, which faces general elections in October, is already trying to keep a lid on immigration. The interior minister of Ticino, where Chiasso lies, has had enough.
"Closing the border remains, in my view, a measure to be implemented in case of necessity because the numbers we have are very high," Norman Gobbi said in an interview. "That doesn't mean total closure, with nobody able to cross from Como to Chiasso. It means rejecting all illegal immigrants who come to us, even those potentially seeking asylum, and to send them back to Italy, as clearly they arrive from Italy."
Escape to Europe
Switzerland is not the only country facing an influx of migrants. Italy has become a gateway into Europe for people from war zones such as Syria and Iraq and from Africa, with more than 85,000 migrants landing on Italian shores by July 21. The tide has led to tensions in several places throughout Europe, including Calais in France, where thousands of attempts have been made by migrants to force their way onto trains and trucks to England over the summer.
In the seven months through July, Swiss border police apprehended more than 13,000 migrants who were in the country illegally. That compares with 14,265 for all of 2014, according to the Swiss customs office. While many request asylum, those who don't regularly are sent back to the European Union country from which they entered Switzerland.
Samuel Gebrehimet is one of them. The 25 year-old Eritrean, who paid $5,300 to make his way to Italy by boat, was waiting for a train back to Milan after being caught with no documents and no plans to request asylum. He was trying to reach the Netherlands to reunite with his wife, who left for Europe before him.
'Peaceful Immigration'
"The person I bought the ticket from said it was going to be easy to get to Germany," Gebrehimet said, sitting on a bench at Chiasso station, his few possessions in an empty-looking black backpack at his feet. "I tried to get there, but it's difficult, very difficult. Police don't want me to stay in Italy but I have to go back to Milan again."
The setback won't stop him from trying to get to the Netherlands in the coming weeks, he said.
"Here in Switzerland we have a peaceful immigration," Davide Bassi, spokesman for the Ticino border police, said in an interview at Chiasso station. "Despite the impressive increase of migrants we've seen in the past months, we've never had to act with force and we've never had a single episode of violence."
More than 100 trains stop in Chiasso every day, with about 20 arriving directly from Milan, each of them carrying about 400 passengers, according to Bassi. It's typically on these that undocumented immigrants enter Switzerland. Ticino has about 300 officers patrolling its borders, but at the station they only have a few minutes to scan passengers and catch the undocumented ones, he said. Often, when the train stops in Chiasso, they are caught hiding in toilets, with as many as seven squeezed into a cubicle.
Refugee Status
Once in Switzerland, they often request political asylum, and more than 4,100 did so in the first quarter, according to Eurostat. That compares with about 185,000 people who've applied in the 28-member EU in that period, the data show. That means Switzerland has 2,655 applicants per 1 million inhabitants, while in the EU that number is 365, Eurostat data show.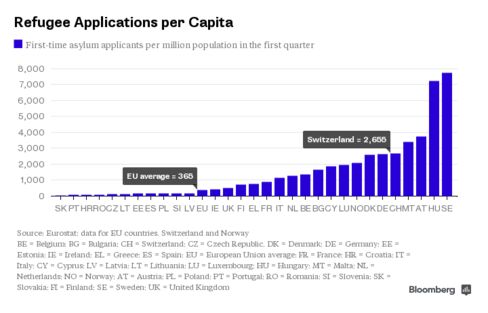 Foreigners comprised 24.3 percent of Switzerland's 8.24 million people in 2014, according to government figures.
The debate on migrants is intensifying as Switzerland nears the federal election in October. Canton Lucerne is demanding that Eritreans not be recognized as refugees anymore, and has asked the Swiss government to review the country's asylum policy.
Seeking Asylum
"Admitting Eritrean nationals is currently being intensively discussed as asylum reform will dominate the political agenda in coming weeks," said Luca Strebel, co-president of Switzerland's Young Christian Democratic party. "The parties have noted that the topic of refugees is burning under the fingers of many potential voters."
Nearly 12,000 people sought asylum in Switzerland in the first six months of 2015 and almost a third of them were from Eritrea, followed by Somalia, Sri Lanka, Syria and Afghanistan.
The Eritrean government is committing systematic, widespread and gross human rights violations, including torture, extrajudicial executions and forced labor, according to a June report from the United Nations Human Rights Council.
"Our center in Chiasso is the main 'front desk' of Switzerland for asylum seekers," said Martin Rechlin, a spokesman for the State Secretariat for Immigration in Bern. "But the federal structures in Ticino cannot cover the need for beds and shelter, so asylum seekers arriving there are sent to other centers. They don't stay in Ticino, they don't sleep on streets, there's no tent. We have nowhere in Switzerland a situation you could compare to Calais."
Making Plans
If the immigration flow intensifies further, Italian-speaking Ticino will be ready to deal with it, Bassi said, adding there are various arrangements in place with the cantons, civil protection and the army to send support.
For some Chiasso residents, that's no consolation.
"They are in the piazza, they sit on benches, they drink," said Monica Dubini, a 53-year-old owner of a tobacco and cigar shop in Chiasso's central Corso San Gottardo. "There are way too many immigrants. Switzerland has some facilities, but those facilities are no longer enough. We can't welcome them all."
Before it's here, it's on the Bloomberg Terminal.
LEARN MORE