Lira Chart Comforting Erdogan Team Seen Pressuring Central Bank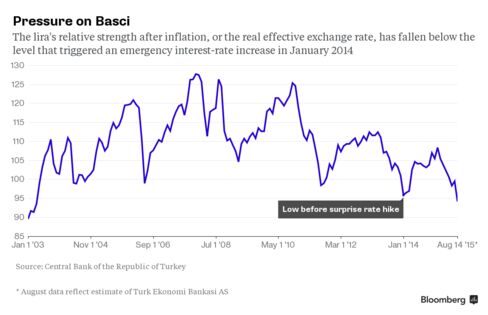 A lira chart showcased by the Turkish president's chief adviser to illustrate why the nation shouldn't fret over its tumbling currency might also signal central bank action to staunch the rout.
The lira, which has fallen to records past 2.8 against the dollar in the past three days as talks to form a coalition government collapsed, will only become "competitive" at 3 per dollar, Cemil Ertem said in a tweet Friday. To help his point, he posted a graph of the lira's relative strength after inflation, or the real effective exchange rate. By that measure, it's weaker now than levels that prompted emergency interest-rate increases last year.
While the lira's depreciation might not concern President Recep Tayyip Erdogan's advisers, it's piling pressure on Governor Erdem Basci before tomorrow's central bank policy meeting. The third-biggest drop among major currencies this year threatens to unwind the recent slowdown in inflation and narrowing of the current-account deficit.
"The market will expect the central bank to show its teeth by at least allowing the weighted cost of funding to move meaningfully higher," Simon Quijano-Evans, the chief emerging-market strategist at Commerzbank AG in London, said by e-mail Friday. "Barring that, we are likely to see the lira head toward the 3 per dollar mark."
Soured Sentiment
Investor sentiment toward Turkey soured after inconclusive elections in June and the breakdown of a fragile three-year truce with autonomy-seeking Kurdish militants last month.
The failure of talks on forming a new government on Thursday sent Turkish markets tumbling as investors braced for fresh elections. Opinion polls indicate a repeat vote might not deliver a single-party mandate for the AK Party, potentially returning the country to the same political impasse of the last two months.
The lira weakened as much as 1.3 percent to a record 2.8698 per dollar, before trading at 2.8654 per dollar by 7:19 p.m in Istanbul. It has slumped 19 percent this year. Declines for bonds lifted the yield on two-year government notes by 10 basis points to 10.28 percent, the highest since June.
Relative Strength
The lira's real effective exchange rate index, which measures a currency's relative strength by adjusting for inflation differentials between a country and its trading partners, fell to 94.1 on Friday according to Erkin Isik, a strategist at Turk Ekonomi Bankasi AS in Istanbul.
That's the lowest in more than a decade and below the level that drove the central bank to more than double its main one-week repo rate in an emergency meeting in January 2014 to support the lira.
Turkey, a net energy importer, has benefited from the rout in crude to curb inflation and its current-account deficit. Consumer prices decelerated for a second month in July to 6.81 percent, the slowest pace since May 2013. The deficit is set to narrow to 4.9 percent of gross domestic product this year from 5.8 percent in 2014, according to the median of economist forecasts compiled by Bloomberg.
While the slide in the lira risks increasing inflation expectations in the country, it won't push the central bank into action yet, Koon Chow, a senior macro and foreign-exchange strategist at Union Bancaire Privee in London, said by e-mail. The real effective exchange rate has not depreciated fast enough for policy makers to raise rates, he said.
Rate Outlook
The central bank has left its main rates unchanged since February, though it's raised borrowing costs by curbing the credit available through its money market operations. The bank has raised the weighted average cost of funding for banks by more than 100 basis points since March to 8.7 percent on Friday.
While the median forecast in a Bloomberg survey of 17 analysts predicts the bank will maintain its one-week repo rate unchanged at 7.50 percent at tomorrow, three economists expect a hike.
Governor Basci announced last month that he would simplify the central bank's rates framework. Although that might require an increase of the one-week repo rate early as tomorrow, "this technical adjustment" would leave monetary conditions unchanged, Goldman Sachs analysts including Ahmet Akarli, wrote in an e-mailed report on Friday.
Investors' expectations for the central bank's one-week repo in three months time have jumped to the highest level this year at 8.04 percent from 7.63 percent in July, according to an August survey published by central bank on Friday.
"The most striking part of the survey was the rate hike expectations," Ozgur Altug, chief economist at BGC Partners in Istanbul said in an e-mailed note. "Whether the central bank will hike properly is yet to be seen."
Before it's here, it's on the Bloomberg Terminal.
LEARN MORE