Coal-Caked Home Shows Danger of Vietnam's Cheap Power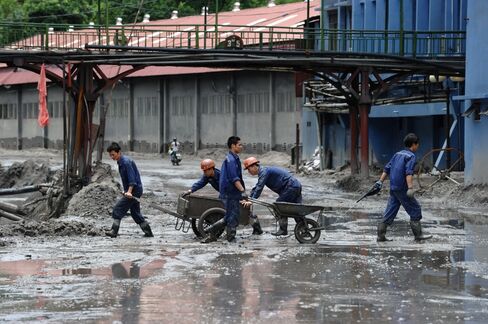 Coal miner Pham Van Tuyen and his family escaped through a window as slurry-filled floodwaters inundated their home in northeastern Vietnam last month. After surviving Quang Ninh province's heaviest rains in four decades, the Tuyens still face lingering danger.
Seventeen people died in the flood in late July and toxic run-off from an open-pit mine left a trail of contamination, from streams near Tuyen's home to the emerald waters of Ha Long Bay, a Unesco World Heritage site whose islets attract more than 1 million visitors a year.
The disaster is stoking criticism of Vietnam's growing reliance on coal-fired electricity -- a key driver of air pollution blamed for climate change and freakish weather events like last month's flood. The nation's demand for power generated by the world's dirtiest fossil fuel is among the fastest-growing in Southeast Asia, even as nations like Canada and New Zealand spurn the energy source.
"This is the first environmental disaster in Vietnam's coal-mining industry and the consequences are yet to be identified in terms of scale, duration and intensity," said Nguyen Dang Anh Thi, a consultant to the resources efficiency program of the World Bank's International Finance Corp. "It's time for Vietnam to evaluate comprehensively the national energy security related to power sources."
Vietnamese leaders have relied on cheap electricity from coal to power an economy that's poised to be one of the fastest-growing in the world. Power demand will increase 10 percent to 12 percent annually through 2030, the International Atomic Energy Agency said. By 2020, almost half will be generated by coal, up from a third now, according to government targets.
Coal Glut
Global coal prices sank to an eight-year low in May amid a glut of the fuel and slowing demand from China, the world's biggest buyer. The low prices are discouraging investments in alternative, cleaner energy sources.
Vietnam has 19 thermal-coal power plants, capable of producing as much as 14,480 megawatts of electricity and about 15 million tons a year of ash, the government said in an Aug. 10 posting. There will be at least twice as much waste from 2020, when the number of coal-fired plants is projected to more than double to 43.
That doesn't bode well for air quality. The World Health Organization implicated pollutants from coal combustion and other solid fuels in outdoor air in 3.7 million deaths worldwide in 2012. Of those, 70 percent occurred in Asia and the Pacific region, the Geneva-based organization said last year. It said risks from air pollution are now far greater than previously thought, especially for heart disease and strokes.
Alternative Options
"When you add it all up, does it make economic sense to still pursue this policy?" said Koos Neefjes, a climate change policy adviser with the United Nations Development Program in Hanoi. "Vietnam should reconsider its long-term plans and consider alternative options."
Tuyen's home is 150 meters (500 feet) from the pit where he's worked for 14 years for state-owned Vietnam National Coal-Mineral Industries Holding Corp., or Vinacomin. Coal mined there feeds the Mong Duong power plant, emissions from which have been blamed for sickening local residents.
Tuyen was diagnosed eight years ago with a lung disease that doctors told him was caused by his work, he said.
"We live with black smoke and dust," the 38-year-old said. His two-room home is now caked to the roof with slurry and rocks that were carried by the flood.
Vinacomin didn't answer e-mailed questions asking about environmental damage, saying only that all flooded coal mines are expected to resume operations this month, except Mong Duong, the worst-affected, which can't reopen until late November.
"Coal slurry from mines has polluted some streams and rivers in the cities of Ha Long and Cam Pha," Dang Huy Hau, deputy chairman of Quang Ninh Provincial People's Committee, said in an e-mail today. He said water supplies for those cities are far from the affected area and haven't been polluted.
Officials at state-owned power company Vietnam Electricity Group declined to comment on the incident. It plans to put two more coal-fired plants in Tuyen's Quang Ninh province in the next two years, according to a plan posted on the Ministry of Industry and Trade's website.
"There is no mine, no coal-fired power plant operating in this country that's taken into account climate change and the extreme weather it's bringing," said UNDP's Neefjes. "This is a time bomb and it's already started to explode."
Before it's here, it's on the Bloomberg Terminal.
LEARN MORE