$19-an-Hour Waiters Are One of the Hurdles to Growth in Australia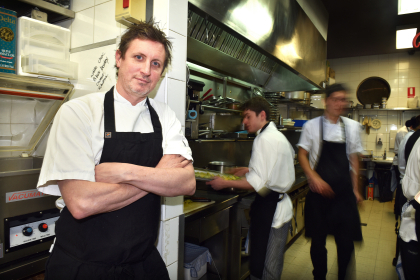 Award-winning chef Ben Willis would have no trouble filling his Canberra restaurant on Sundays. It's been voted the best in the Australian capital three years running.
But faced with a A$25.94 ($19.12)-an-hour wage bill even for trainee waiters under Australia's complex system of pay rates, he says it makes no financial sense to open.
"These restrictions to business are so out of date," said Willis, 40, of the so-called penalty rates that double wages for Sunday shifts in some service industries. "It's a changing market place and a changing society."
The issue is coming to the fore in an economy experiencing its weakest run of growth since the 1991 recession and with unemployment matching an almost 13-year high. Yet two years after being elected on a pro-business agenda, Prime Minister Tony Abbott's government is showing little appetite to overhaul the labor market after the last attempt to do so brought down his conservative predecessor, John Howard.
"The labor market is now rigid, hampering small businesses and potentially capping growth," said Shane Oliver, head of investment strategy at AMP Capital Investors Ltd. in Sydney. "It's been 96 quarters since the last recession, which has made Australians wary of the reform it needs."
Workplace reform is fraught with political risks for Abbott's Liberal-National coalition, which is languishing behind the main opposition Labor party in opinion polls before elections due next year.
Voter Backlash
Abbott's mentor, Howard, was the last leader to grasp the nettle, stripping back workers' rights including protection against unfair dismissal with his "WorkChoices" legislation. A voter backlash against the law helped bring down Howard's coalition government in 2007.
WorkChoices was replaced in 2009 by Labor's Fair Work Act, under which a system of 122 workplace agreements, or awards, stipulate wage rates, entitlements and overtime. Shop workers can earn as much as A$46.46 an hour on Sundays under one award.
"Penalty rates in Australia do fly in the face of market forces," said Saul Eslake, former chief Australia economist at Bank of America Merrill Lynch. "Australia has more onerous penalty-rate arrangements on employers than many other countries."
In a draft report earlier this month, the government's Productivity Commission recommended that Sunday rates in hospitality, retail, restaurants and cafes be pared back in line with Saturday levels. That would see the pay for some employees drop from 200 percent of their weekday hourly rate to 125 percent.
Creating Jobs
The change, the commission said, would likely increase business opening hours and create job opportunities. In some U.S. states, wait staff can earn as little as $2.13 an hour before tips, which often make up the bulk of their salary. In Washington D.C., the minimum combined cash and tip wage rate is $10.50 an hour.
The commission dismissed any need for widespread change in industrial relations, saying Australia's labor market performed relatively well by global standards.
The commission has put a real overhaul of the "overly complex, conflict-driven" awards system "into the too-hard basket," Jennifer Westacott, chief executive of the Business Council of Australia, which represents the nation's largest companies, said in an Aug. 13 speech.
Spending Cuts
Abbott's government, weakened by a voter backlash against sweeping spending cuts in its first budget in May 2014, has since shunned major reforms in areas such as taxation and pension savings. He's ruled out changes to workplace relations in this term, beyond pledges he made before coming to office such as checking the power of trade unions.
Legislation to help stamp out union corruption and restrict strikes in the construction industry was defeated in the upper house on Monday.
The government is likely to shy away from any wider labor market overhaul even if it is re-elected, according to political analyst Andrew Hughes. A Fairfax Ipsos poll published Monday showed support for Abbott's coalition has fallen 1 percentage point to 46 percent, while Labor rose 1 point to 54 percent on a two-party preferred basis.
"Abbott knows that any real toughening up of industrial relations laws that are seen to be stripping workers of their rights will be political poison," said Hughes, of the Australian National University in Canberra.
Wage Growth
Cutting penalty rates would be counterproductive for an economy experiencing weak wage growth, according to Stephen Koukoulas, a former adviser to Labor Prime Minister Julia Gillard. Hourly rates of pay for private sector workers rose 2.2 percent in the second quarter from a year earlier, the weakest growth in records dating back to 1997.
"We need to find ways to help the economy to expand instead of delivering another a knock on real wages growth through something like a cut in penalty rates," said Koukoulas, managing director of Canberra-based Market Economics Pty.
For Willis, whose Aubergine restaurant and other Canberra eatery Temporada are closed on Sundays, change is essential.
"Tourists come here and they complain that nothing is open on a Sunday," he said. "It's a bad look."
Before it's here, it's on the Bloomberg Terminal.
LEARN MORE