Yuan Confusion Played Perfectly by Japan's Yen Trader Crowd
As the shock of China's decision to devalue the yuan rippled across the globe, at least one group managed to make a profit: Japan's retail foreign-exchange traders.
When the greenback surged to a two-month high against the yen in the hours after Tuesday's surprise move from the People's Bank of China, individuals in Japan decided to sell the dollar rally, according to data from Gaitame.com, a major Tokyo broker. And they picked the bottom for the dollar on Wednesday, buying back the currency after its steepest drop in a month.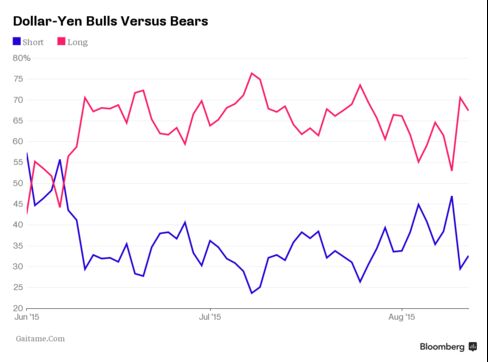 The bullish swing in dollar-yen positions was the biggest in three years, according to Takuya Kanda, a senior researcher at Gaitame.com Research Institute Ltd., a unit of Japan's fourth-largest brokerage in June by volume.
"Investors are keen to buy the dollar on dips on the basic assumption that it's going to strengthen as the Federal Reserve raises interest rates," he said. "Dollar buying exploded after it fell below 124 yen."
The dollar was at 124.39 yen at 6:28 a.m. in London. It dropped as low as 123.79 yen on Wednesday from as high as 125.28 earlier the same day.
There's a 50 percent probability the Fed will raise its benchmark rate in September, and 73 percent odds of a move by year-end, based on the assumption that the effective fed funds rate will average 0.375 percent after the first increase.
Investors cut bullish dollar-yen bets to a two-month low of 53 percent of positions Tuesday, from 61.5 percent the day before, Gaitame.com data show. Those wagers surged to 70.5 percent on Wednesday.
Gaitame.com handled 29.6 trillion yen ($238 billion) in trading volume in June, ranking it fourth among 12 firms handling a total 315 trillion yen, according to a survey by Yano Research Institute.
Before it's here, it's on the Bloomberg Terminal.
LEARN MORE