The 10% Treasury That's Older Than a Lot of Traders Matures Tomorrow
End of an era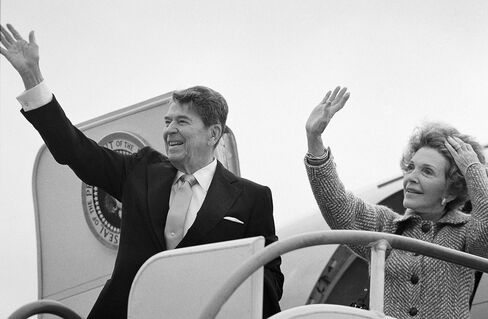 The last Treasury bond with a coupon above 10 percent is older than some government-debt traders. It turns 30 tomorrow.
The bond was issued on Aug. 15, 1985, and is one of just five Treasury bonds left with coupons of 9 percent or higher. All of them mature in the next three years. And as the ranks of high-coupon government bonds have gotten smaller, so has the number of traders and analysts who were on Wall Street desks when high yields and worries about rising prices were the norm.
"Talking to people who have been in the market for 20 or 30 years is interesting, because they did see double-digit inflation," says Edward Acton, a U.S. government-bond strategist at RBS Securities, who turned 23 two months ago. "It seems almost alien."
In 1985, the consumer-price index rose at a 3.6 percent pace and had spiked by nearly 14 percent five years prior. The benchmark 10-year Treasury note finished the year with a 9 percent yield. Larry Milstein hadn't started trading bonds just yet, but he was getting ready to go to college, which he would follow with an MBA in finance and a 23-year career in trading bonds.
"Some people think that 3.5 percent might be the cap" for 10-year yields now, says Milstein, who's now managing director of government-debt trading at R.W. Pressprich in New York. "But if you've got a longer history, 6 percent isn't unheard of. It's probably more in line with reality than what we've seen in the past couple of years."
New Normal
The newest 30-year Treasury note sold by the U.S. government has a coupon of 2.875 percent. Those ultra-low yields and regulatory pressure have crimped profitability for large global banks. And that has pushed banks toward hiring the younger cadre of bond traders, a trend that consulting-firm Greenwich Associates calls "juniorization."
"You've got a whole bunch of people who weren't even alive in '85 and haven't known anything but yields going down," says Neil Bouhan, an interest-rate strategist with BMO Capital Markets in Chicago. Bouhan was 5 years old when the bond was issued.
That means the "New Normal" of low returns and below-average inflation, an idea popularized by bond guru Bill Gross after the financial crisis, is the only normal for some traders and analysts on Wall Street.
"On our desk, it's kind of split. There's a few of us who are younger, and there's an old guard," says RBS's Acton. "But not too many of them are left now."
Before it's here, it's on the Bloomberg Terminal.
LEARN MORE