Kyrgios Faces Three-Year Ban, $100,000 Fine for Wawrinka Insults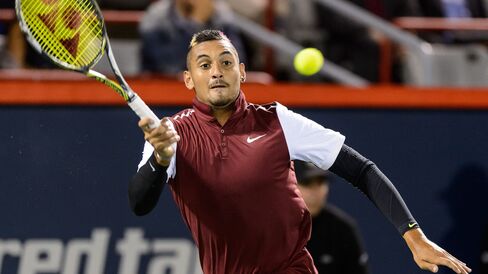 Former Wimbledon quarterfinalist Nick Kyrgios may face a suspension and could be fined as much as $100,000 after the men's ATP World Tour opened an investigation into his behavior.
Kyrgios was fined $12,500 for two incidents during a match against two-time major champion Stan Wawrinka at the Rogers Cup in Montreal Wednesday. The 20-year-old was heard on camera making lewd suggestions regarding Wawrinka's girlfriend and another Australian player, Thanasi Kokkinakis.
The 41st-ranked Kyrgios has been served with a notice of investigation, the ATP said in an e-mailed statement. If found guilty of aggravated behavior or "conduct contrary to the integrity of the game," he could be fined $100,000 and be banned from ATP tournaments for as long as three years, according to the ATP rule book.
Kyrgios has won almost $750,000 in prize money this year, bringing his career total to $1.56 million.
"I've been fined, it's all been put to bed," Kyrgios said in a news conference Thursday. When asked if he was concerned about more sanctions, he said "no, I don't think there should be."
Tennis Australia said the ATP fine is appropriate.
"We understand how important it is to help educate and influence him both on and off the court," the governing body said in an e-mailed statement.
Kyrgios apologized on his Facebook page Thursday, saying his comments "were made in the heat of the moment and were unacceptable on many levels. I take full responsibility for my actions and regret what happened." He was booed by the Canadian crowd during his third-round defeat to John Isner of the U.S. Thursday.
Earlier in the week, Kyrgios' mother, Nill, told the Canberra Times her son would be working with fellow Australian pro and former world No. 1 Lleyton Hewitt in the run-up to the U.S. Open, which begins Aug. 31 in New York.
After splitting from his coach Todd Larkham in June, Kyrgios had a tempestuous Wimbledon. During a fourth-round loss to France's Richard Gasquet, he appeared not to try to hit the ball for one game after receiving a code violation for swearing. He then argued with umpire James Keothavong over taking too long to change his socks.
Top-ranked Novak Djokovic and nine-time French Open winner Rafael Nadal criticized Kyrgios for his comments.
"There's no excuse for what he has said," Djokovic told reporters Thursday in Montreal after he beat Jack Sock of the U.S. to move to the quarterfinals. "I understand that every player goes through certain tantrums, emotional ups and downs during the match. But it's not, I would say, fair, and there's no excuse of directing your tantrums to your opponent, especially to somebody that is not even there."
Nadal, who was upset by Kyrgios in the fourth round of Wimbledon in 2014, said: "Age is not an excuse, it's just about respect."
Before it's here, it's on the Bloomberg Terminal.
LEARN MORE