Hedge Funds Boost Energy Holdings as Oil Rout Brings Opportunity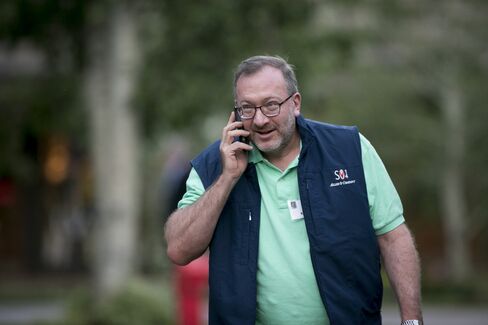 Hedge fund managers are betting hundreds of millions of dollars that Cheniere Energy Inc., Pioneer Natural Resources Co. and Williams Cos. will be among the energy companies that survive the worst oil rout in decades.
Seth Klarman of Baupost Group bought 898,063 shares in Texas shale explorer Pioneer during the second quarter while Richard Perry's firm added 6.26 million shares of Williams, according to regulatory filings.
Energy investors have lost more than $1.3 trillion in shareholder value as the price of oil dropped about 60 percent from its peak last year, according to data compiled by Bloomberg. And now hedge fund managers are on the hunt for bargains, said oil and gas restructuring specialist John Castellano at AlixPartners in Chicago. Many companies are struggling to survive as revenue falls and banks curtail their access to credit.
"Not every oil and gas company is distressed," Castellano said. "There are good companies out there that have good assets, but because the entire market has come down everyone's equity has been hit by a reduction in value."
Eric Mindich's hedge fund Eton Park Capital Management bought a stake worth about $118 million in Williams, the Tulsa, Oklahoma energy infrastructure company that rejected an unsolicited $48 billion takeover bid in June. Williams hired Barclays Plc and Lazard Ltd. to "explore a range of strategic alternatives" after saying the offer was insufficient. Investors are betting on a possible sale soon that may pay them a premium.
Perry's Williams stake increased by $381.7 million during the quarter to $548.1 million, the biggest gain among its U.S. public equities. Perry also increased its stake in Cheniere, adding 666,568 shares.
Jana Partners, the $11 billion hedge-fund firm run by Barry Rosenstein, also took a stake in Williams, buying 4.21 million shares during the quarter.
Winners, Losers
"There hasn't been a significant separation of the winners and the losers yet and I think we're going to see the start of it this fall" among energy firms, said Omar Samji, a partner in the energy practice of law firm Jones Day in Houston. The winners "are going to be companies that can operate in this environment, that can make money."
Boston-based Baupost increased its position in Cheniere by 1.56 million shares to a value of $1.06 billion as of June 30. Cheniere remains Baupost's largest U.S. stock holding. Baupost, which has $28.5 billion in assets, also now holds a $563.8 million stake in Pioneer as of June 30, according to a regulatory filing.
Cheaper Stocks
Baupost lost about 1.4 percent last quarter as energy stocks fell. Pioneer, a fracking company that hedge fund manager David Einhorn in May called overvalued, dropped 15 percent in the quarter, while Cheniere declined 11 percent. Both stocks have extended their declines since then.
Baupost reduced its position in Antero Resources Corp., while buying a new stake in Sanchez Energy Corp.
Point72 Asset Management, the firm that manages billionaire Steve Cohen's investments, also boosted its energy holdings in the second quarter. It EOG Resources Inc. stake increased by $242.9 million to $245.5 million, its largest U.S. equity-listed holding at mid-year. Point72 also bought more shares in Occidental Petroleum Corp., with the stake rising by $189.2 million to $212.6 million, according to securities filings.
Highfields Capital Management, the $12.5 billion management firm run by Jonathon Jacobson, took new positions in Sempra Energy and Cenovus Energy Inc., giving it respective stakes worth $137.4 million and $70 million. Highfields reduced its investment in Enbridge Inc. by 1.96 million shares, bringing the value of that investment to about $176 million.
Pickens' Holdings
Billionaire oil investor T. Boone Pickens saw the value of his energy holdings more than double during the second quarter to $72.9 million as he added stakes in 14 new companies, including oil field contractors Pioneer Energy Services Corp. and C&J Energy Services Ltd. He sold off his interests in a dozen other companies, including Schlumberger Ltd., the world's largest service provider.
Money managers who oversee more than $100 million in equities must file a Form 13F within 45 days of each quarter's end to list their U.S.-traded stocks, options and convertible bonds. The filings don't show non-U.S. traded securities or how much cash the firms hold.
Before it's here, it's on the Bloomberg Terminal.
LEARN MORE