Restaurant Legend Drew Nieporent's Three Rules for Success
The mastermind behind Nobu, Tribeca Grill, and Batard reveals how he stays afloat in an era of rising rents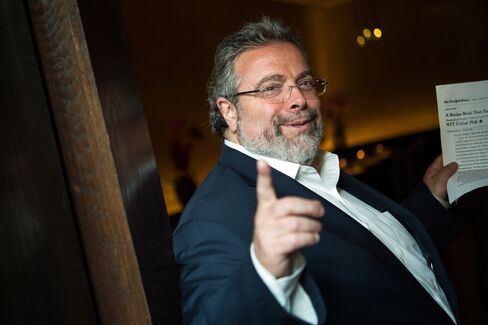 Drew Nieporent may be the last of the old time restaurateurs. New York City born and raised, he got his start on cruise ships and working at Warner LeRoy's singles spot, Maxwell's Plum. In the 1980s when you couldn't get a taxi to drive you to the area known as Tribeca, he heralded a new era there with restaurants that were serious about their cuisine and wine cellars, but relaxed in their dress code. Montrachet, then Tribeca Grill, attracted a Hollywood clientele, most notably Robert De Niro — who soon became a partner in what would become one of the most famous and profitable restaurant brand in history: Nobu. Bloomberg Brief's Peter Elliot caught up with Nieporent after the third incarnation of the Montrachet space, Batard— a riff on the French word for bastard—won "Best New Restaurant" 2015 from the James Beard foundation. Comments have been edited.
Elliot: Batard is in the space where you started Montrachet 29 years ago and then Corton. Do you just keep trying until you get it right?
Nieporent: Montrachet was right, until it was wrong. The concept of a great French restaurant that was also casual and sitting on top of a fantastic wine cellar was revolutionary then. Corton was revolutionary, too. Maybe too revolutionary. Either way, it's a space where I can work out my obsessions about restaurants and how to run them.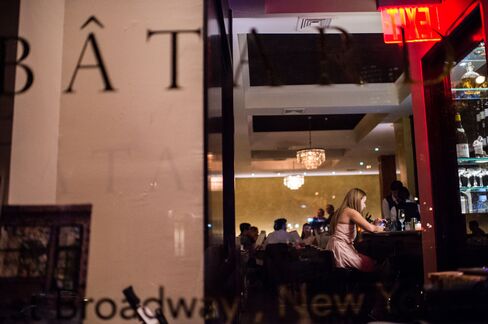 So what did you learn specifically in the Montrachet/Corton/Batard space?
Seating, I worked out seating. You'd think a guy who's been in this business as long as I have would have worked out seating—but it takes time. It took years of new kitchens, new heating/AC systems, floods, whatever it is. I've taken seats out of revenue producing space because now it does what I want. It's become a very manageable restaurant. This is the first of my restaurants where there isn't a bad seat in the house. I love that.
So Batard is like your laboratory?
Absolutely. You try new things. You try old things. We raised the bar in the '80s and '90s so high — with wine, with food — that I had the luxury to look at new ways to make the food and the experience all worth the effort. And how to amortize the cost!
That sounds a lot like what you were doing with Corton. Batard feels very different menu-wise. Is it an attempt to reclaim the fare of Montrachet?
Reclaim? Maybe. We made a decision that is harder to define. Ferran Adria changed the food world. And I admire that creativity. In the end of the day though, it's about food. It's about nourishment. And I still believe that the food people ultimately desire doesn't need to be super creative. Look, we don't even have an airline called "Continental" anymore, but the food Markus [Glocker the chef at Batard] is doing here is really that. Continental was a phrase from the '60s that became a bad word. I don't think it is. I think it's the food people want to eat.
We're skipping around your experience with Paul Liebrandt, the avant-garde chef who ran Corton. Do you mean that that movement is dead? Or just that you don't like it?
If I didn't like it I wouldn't have hired him and supported him. And I still do. I wanted to try it. We did try it. But in the end it's not the food I want to eat. I am all for the 'new' in food; I just don't want it bastardized. Get it?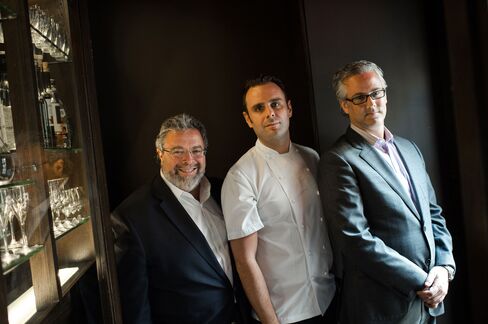 With the World Trade Center open now do you see clients coming north to Tribeca?
Honestly, I don't. A thousand people at Conde Nast doesn't make a restaurant market. And the rents down there—at $150-per-square-foot and higher? Forget it. We're going to have to have $60 entrees soon. My flag stays here. And in Midtown. And London.
You have taken on the role of the Grand Empresario of the restaurant industry—tireless, cigar in one hand, glass of something deep, red and Californian in the other. What advice have you for newcomers ?
Drew's Tips for Success: One — lose the cigar and the glass of wine. It takes its toll. Health does come first. I'm always a mess that way and I'm working hard to keep my weight under control. The cigars — I don't count that.
Two — test mental commitment. You can talk the talk but can you walk the walk? This is a tough business. The first thing I want to see from anyone, in business, in the kitchen, is stamina. Talk is cheap.
Three — know the business. This is a numbers game and the numbers have never been more problematic. In most cases with a new restaurant you're barely breaking even after all your costs and rent. You think you're famous. You hire a PR firm. Bang. Your costs just went up. I'm not saying not to do it. It's a slippery slope where your only hope of success for profit is to get great lease deals, keep your costs down and then manage a restaurant, which is the hardest part.
You are famous for deal making, for Nobu, for Tribeca Grill. You've made a lot of money. Why do you still do it?
Money isn't my driver. Let's say over 29 years at Montrachet I made $29 million. The way it works in my head? I could have bought that building several times over and didn't. I put the money back into ideas, back into the people who work there. That's what makes restaurants and that's what makes an economy and that's what made Tribeca. And that's who I am. Would you say that at my funeral please? And put a cigar or two in for me, too.
Peter Elliot is editor of Reserve and manages the lifestyle functions on the Bloomberg Professional service. He is Bloomberg's founding food critic and a James Beard Award winner. Opinions expressed are his own. Follow him on Twitter at @mrpeterelliot.
Before it's here, it's on the Bloomberg Terminal.
LEARN MORE