Watches
Montblanc's CEO Finds a Foothold in the Smartwatch Fray
Jérôme Lambert on the task of balancing handmade treasures and modern wearables under one banner
Watches might not be the first thing that comes to mind when you think of Montblanc, but its chief executive officer, Jérôme Lambert, is working to change that. Since his arrival in 2013, the brand has been strategically pumping up its watch division right alongside the luxury pens and leather goods on which it made its name. And now Lambert's taking on smartwatches, too.
The Montblanc e-Strap is a secondary device worn on a watch's strap to add such functions as calendar alerts and e-mail notifications without interfering with the mechanical watch above. It will be hitting stores in Europe in late August and will arrive in the U.S. by early October. It's worth noting that, for now, Montblanc will not be making the e-Strap available as a standalone device. You'll have to purchase it bundled with one of three Montblanc watches, with all-in prices ranging from $3,140 to $4,900.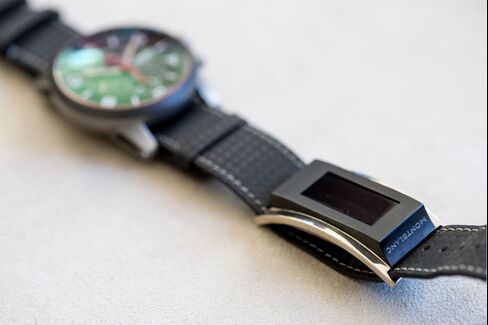 Montblanc's managing director of watches, Alexander Schmiedt, told Bloomberg in May that he believes the company's combination of contemporary technology and a traditional mechanical watch presents more long-term value than a totally disposable smartwatch. Plus, it offers a way for watch lovers to enjoy wearables, too.
"Compared to the one-watch solution, the difference is I don't wear it as the main device. It's an additional device, an accessory to the watch," Lambert said in an interview on Bloomberg's Market Day. Software updates will be coming quarterly from Montblanc, and the company plans to support the first e-Strap for at least two years.
Having guided both A. Lange & Söhne and Jaeger-LeCoultre before joining Montblanc, Lambert brings a lot of watchmaking expertise to the C-suite. Combine this with the brand's Villeret, Switzerland, workshop and its ownership of the historic Minerva movement maker, and you get a sense of how Montblanc has spun up a truly high-end operation. In small numbers, it's making such insane creations as the Villeret Tourbillon Cylindrique Geosphères that sell for hundreds of thousands of dollars, drawing in the high-end collectors. At the same time, though, Montblanc's scale allows the creation of budget-friendly complications such as the Heritage Spirit Orbis Terrarum, which, at $5,800, is a fraction of the price of most worldtime watches.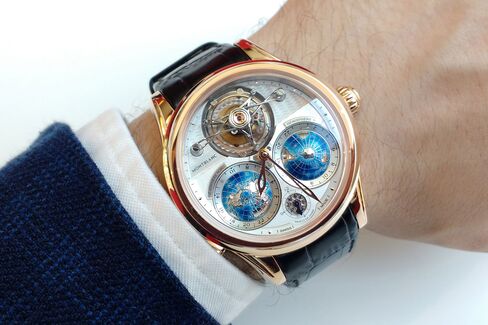 For Lambert, everything ultimately comes back to acknowledging technology while not throwing the traditions of mechanical watchmaking aside.
"Our tradition is coming from high watchmaking; it doesn't come from the technology world. This is why we went for a solution that is an add-on to the traditional technology," he said. "If you compare it to an activity tracker itself, you have more functions: you have the activity tracker, notifications, 'find me' ... but I can have this with my watch."
Before it's here, it's on the Bloomberg Terminal.
LEARN MORE