China's Weaker Output, Investment Adds to Currency Pressures
China's industrial production, investment and retail data all trailed analysts' estimates, putting additional downward pressure on an already weakening currency.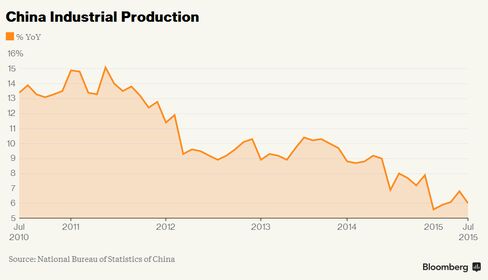 Industrial output rose 6 percent in July from a year earlier, the statistics bureau said Wednesday, undershooting even the most bearish estimate of 40 economists surveyed by Bloomberg and down from 6.8 percent in June. Retail sales rose 10.5 percent in July, while fixed-asset investment climbed 11.2 percent in the first seven months, the slowest pace since 2000.
Weak industrial output and investment, along with an exports slump, add fresh risks to Premier Li Keqiang's 2015 growth target of about 7 percent. China's yuan devalued the most in two decades Tuesday and fell again Wednesday as policy makers allow markets a greater role in setting its level.
"Since the yuan is now decided by market forces, and like every currency decided by market forces, economic weakness will certainly add depreciation pressure," said Yao Wei, a China economist at Societe Generale SA in Paris. "The Chinese economy is still facing huge downward pressure."
The Shanghai Composite Index fell 1.1 percent while the yuan added to losses after the data.
Fixed-asset investment growth was weaker than the median estimate of 11.5 percent in a survey economists, while retail sales growth fell short of a forecast of 10.6 percent.
Weakening Outlook
The data reflect an economy grappling with industrial overcapacity, a property market downturn and a volatile stock market. Producer price deflation deepened last month, while exports declined more than estimated in July. Bloomberg's monthly GDP tracker shows 6.6 percent growth in July, down from 6.9 percent in June.
Slumping exports, weak investment and falling output of some consumer goods are the major reasons for the slower expansion of industrial production, Jiang Yuan, senior statistician at NBS, said in a statement after the data. "The drop in industrial output growth shows that the base of the stabilization in the industrial sector isn't solid."
The volume of shoes produced in July dropped 8 percent, crude steel declined 4.6 percent while passenger cars decreased 26.3 percent, according to Jiang's statement. Electricity output declined 2 percent from a year earlier in July.
To combat a deepening economic slowdown and make the yuan's exchange rate more market-oriented, the People's Bank of China devalued the currency by 1.9 percent on Tuesday and another 1.6 percent on Wednesday, leading to the biggest two-day drop in 21 years.
Currency Boost
That regime change will assist the country's struggling exporters and manufacturers, said Li Miaoxian, a Beijing-based analyst at Bocom International Holdings.
"Weakening the currency is a more effective policy than the previous moves of interest rate cuts and reserve ratio reductions," Li said. He expects industrial output and investment to stabilize in the next few months.
The PBOC has already cut interest rates four times since November and reduced the ratio banks have to set aside as reserves. It also supported a bond swap program to reduce financing costs for local governments by allowing banks to use municipal bonds as collateral, and will provide funds to state banks to buy "special" financial bonds to fund construction projects, people familiar with the matter said this month.
In a statement Wednesday, the PBOC said there's no economic basis for the yuan to fall continuously.
Economic Stabilization
"Recently, major economic indicators stabilized and showed good signs, which provides a favorable macroeconomic environment for a stable" currency, it said.
The falling yuan may add risks to consumption, which was one of the most important drivers of growth in the first half.
Prada SpA, Apple Inc. to Audi AG are seeing sluggish sales in the nation. Chinese consumers bought the fewest passenger vehicles in 17 months in July despite deeper discounts, according to China Passenger Car Association on Tuesday. Depreciation means imported goods such as luxury cars, diamonds and overseas trips become more expensive.
Better news come from the property sector: sales rose 13.4 percent in the first seven months, up from 10 percent in the first six months. Investment in residential properties rose 3 percent in the first seven months, picking up from a 2.8 percent pace in the first half -- that's the first acceleration since 2014, according to a statement from Li Jiao, senior statistician at NBS.
— With assistance by Xin Zhou
Before it's here, it's on the Bloomberg Terminal.
LEARN MORE