And you thought getting a Greek deal was tough.
Next up for Alexis Tsipras -- after lawmakers approve his new bailout and he secured funds from international creditors -- is reviving an economy that's taking hit after hit.
Second-quarter GDP data due Thursday doesn't bode well. It's expected to show a 0.5 percent contraction in the three months through June, extending the country's recession.
Even before the introduction of capital controls at the end of June, the outlook was grim. With the shutdown of the banking system for three weeks demand dropped, manufacturers couldn't buy raw materials and businesses suffered.
Markit's manufacturing Purchasing Managers Index for July captures the blow to the economy.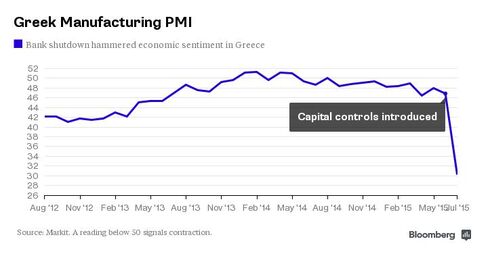 That's deepening the hole Tsipras has to drag Greece out of. The fiscal conditions attached to the bailout will add to the strain.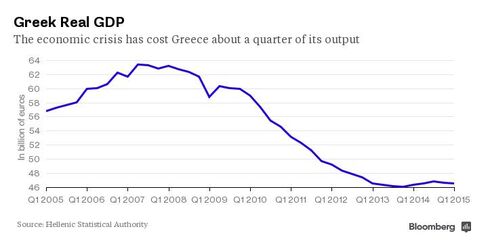 According to Commerzbank, the key question is "if and how well the Greek economy gets going again." Note the "if."
Greece's new aid program is based on forecasts that it will contract 2.3 percent this year and 1.3 percent in 2016. GDP is seen expanding 2.7 percent in 2017 and 3.1 percent in 2018.
"We are far from sure about the growth assumptions made for 2016 and 2017," Commerzbank economists including Ralph Solveen said on Wednesday. "So the Greek crisis will have been staved off for the time being. How long the situation lasts will depend largely on how the Greek economy performs.''
Before it's here, it's on the Bloomberg Terminal.
LEARN MORE