Mexican Billionaire Carlos Slim Is One of the Biggest Losers in the Gold Crash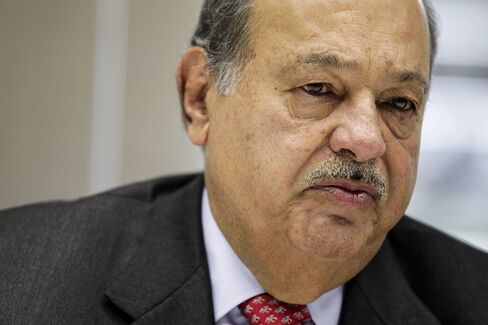 Mexican billionaire Carlos Slim is becoming one of the biggest victims of the collapse in gold prices to a six-year low.
His mining company, Minera Frisco SAB, has tumbled 53 percent this year, the worst performance among 90 international peers tracked by Bloomberg. Mexico City-based Frisco has had only one profitable quarter in the past nine, and this year's 6.7 percent slide in gold prices is just making things worse.
Slim owns 78 percent of Frisco, according to data compiled by Bloomberg, so he's the biggest loser from the stock's collapse; it has contributed to a $7.2 billion tumble in his fortune this year, the most among 400 rich people tracked by Bloomberg. Laura Villanueva, an analyst at Mexican brokerage Monex Casa de Bolsa SA, sees more losses ahead for Frisco as the company struggles with falling output and a high debt load.
"The performance of the company has been significantly influenced by the fall in international metal prices as well as a very high debt level," Villanueva said in a phone interview from Mexico City. She sees the stock falling another 7 percent by the end of the year.
Of course, it's not just Frisco that has taken a toll on Slim's fortune. The U.S.-traded shares of his telephone behemoth, America Movil SAB, have lost 12 percent, from losses in the Mexican peso and changes wrought by regulators who are cracking down on dominant telecommunications companies. Shares in Slim's bank, Grupo Financiero Inbursa SAB, also have fallen.
Sell Recommendations
But it's Frisco that stands out these days as the biggest blight on Slim's empire. This year's stock slide follows declines of 20 percent in 2014 and 51 percent the year before. The company, which Slim bought in 1984, mainly produces gold and silver bars at nine Mexican mines.
"Every time Frisco's earnings fall, it means losses for Slim," Jose Helue, a senior equity research analyst at Interacciones Casa de Bolsa SA, said in an interview in Mexico City.
The performance has been so awful that the stock was ejected in May from the MSCI LatAm Standard Index, a benchmark for regional equities. Two years ago, Frisco was booted from Mexico's benchmark IPC index. Four of six analysts surveyed by Bloomberg recommend selling the shares.
Arturo Elias, a spokesman for Slim, said operations at Frisco and the billionaire's other companies are healthy and recent losses are due to "a difficult environment."
Moody's Rating
"The important thing for Minera Frisco is that the operations are going well," Elias said in a phone interview. "The results are a reflection of temporary effects of a fall in metal prices and the devaluation of the peso versus the dollar."
Moody's Investors Service said in a statement Monday that it sees Frisco increasing production with new projects, improving operating efficiency and reducing debt.
Indeed, one of the biggest obstacles to a turnaround is the company's high debt load; with limited capacity to borrow more, and with cash flow sapped by falling gold prices, Frisco has fewer resources to invest in future production, according to Credit Suisse Group AG.
The company's net debt is 4.5 times its earnings before interest, taxes, depreciation and amortization, according to Javier Santiago, a mining analyst at BBVA Bancomer in Mexico City. That's the highest ratio among the country's four biggest mining companies.
'Tight Liquidity'
Frisco's Munguia said the official ratio it reports to lenders is lower, at 3.86 times.
The company's cash flow from operations dwindled to 787.7 million pesos ($48.7 million) in the second quarter, down 67 percent from a year earlier. Frisco's milling and deposit production dropped 5 percent as the Maria copper mine in the northern Mexican state of Sonora completed its production cycle.
Frisco's "tight liquidity position is a strong constraint on exploration spending," Credit Suisse analyst Ivano Westin wrote in a July 23 report. Westin has a sell rating on the stock, with a 12-month price target of 8.4 pesos per share. On Monday, it closed at 10.06 pesos in Mexico City.
Before it's here, it's on the Bloomberg Terminal.
LEARN MORE