Rousseff Digs in as Split Brazil Opposition Ponders Her Fall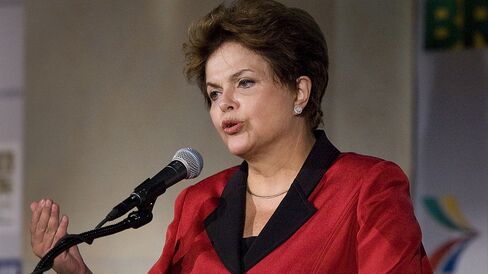 Brazil's embattled President Dilma Rousseff is digging in her heels as her opponents struggle to find a way to unseat her.
Rousseff, 67, has stepped up public appearances to trumpet her achievements and on Monday dined with senators to defuse discontent. The meeting came a day after she thwarted some congressional leaders by nominating for a new term the prosecutor who is spearheading a graft probe into dozens of politicians and business executives.
More politicians have joined the majority of Brazilians who say the country may be better off without Rousseff as unemployment rises and a corruption scandal ensnares leaders in her Workers' Party.
Yet there is no sign Rousseff wants to quit, no evidence that would justify impeachment and little unity in the opposition, said Christopher Garman, the head of country analysis at consulting firm Eurasia Group. That paves the way for further political turmoil, he said.
"The pressure that could force Rousseff out of office is high but the path of getting there isn't clear," Garman said by telephone. "There's neither a smoking gun, nor any consensus within Congress -- including the opposition -- on how or even whether to impeach the president."
State television on Monday broadcast scenes of Rousseff posing with a baby and handing out keys to subsidized houses amid chants of "there will be no coup" by her supporters in Maranhao state, one of the poorest in Brazil. She said the nation "needs stability" to survive the crisis.
'Severe Pressure'
Three days earlier, Rousseff said she can withstand "severe pressure," alluding to her imprisonment and torture during the military dictatorship that ended in 1985.
To be sure, the president faces a host of challenges this month, not least of which is a nationwide protest planned for Aug. 16.
The country's audit court also must decide whether the government broke the fiscal law by doctoring budget results last year. A ruling against the government could provide the legal foundation to start impeachment hearings, opposition lawmakers say. Her administration says previous presidents used the same practices.
Investors are concerned that the political instability will push Brazil into a deeper recession and make it increasingly vulnerable to a sovereign-credit downgrade. The real has depreciated 8.1 percent in the last month, the biggest decline among 16 major currencies tracked by Bloomberg.
The presidential press office didn't respond to a request for comment on this article.
Political Climate
Yet the political climate may be starting to improve, said Lucas de Aragao, a partner at political consulting company Arko Advice. Vice President Michel Temer confirmed Friday he would stay on as Rousseff's chief liaison with Congress following a report he had offered to step down. As president of Brazil's biggest allied party, the PMDB, Temer is key to keeping the government's coalition united.
The president praised her second-in-command during a cabinet meeting Sunday, easing concern there was a rift between the two, according to a person who was present and asked not to be named because the talks weren't public. Rousseff dined with more than 20 of her ministers and over 35 senators on Monday to shore up support for her presidency. Temer was present as well.
"Dilma made an appeal for collaboration," Senator Jorge Viana, a vice president of the upper house and member of Rousseff's party, said after the supper. "Dilma asked the Senate to help the country in this difficult hour, so we can have bills that help the country rather than hurt it."
Not United
Not all of Rousseff's detractors stand united on the best way to oust the president. Some of her critics in the PMDB are pushing for an impeachment that would put Temer in power.
Leaders of the opposition's PSDB party favor new elections. They have contested Rousseff's victory last year before the top electoral authority on allegations of illegal campaign financing. The administration denies wrongdoing.
If the court annuls her win, PSDB President Aecio Neves would be a front-runner for the country's top job, opinion polls show.
"The new election guarantees the government would have the credibility, the legitimacy that Rousseff doesn't have to lead the country," Cassio Cunha Lima, the PSDB leader in the Senate, said by phone.
O Globo newspaper in an editorial on Friday called on all political parties to ensure Rousseff can govern. Some of her supporters in Congress are repeating that message.
"We shouldn't focus on impeachment," PMDB Senator Romero Juca, a vice president of the upper house, said Monday. "The government is looking to build bridges."
Before it's here, it's on the Bloomberg Terminal.
LEARN MORE