Japan Restarts Reactor in Step on Slow Road to Nuclear Power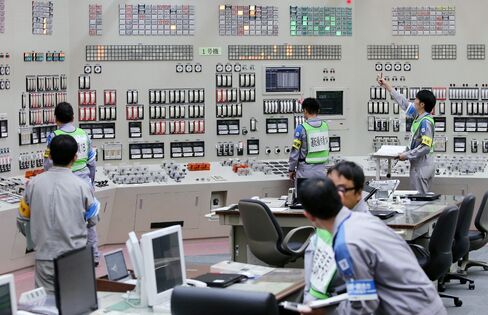 Kyushu Electric Power Co.'s restart of one of its nuclear reactors on Tuesday begins a government-backed process to get more atomic stations online throughout Japan, a policy supported by industry, yet largely opposed by the public.
Kyushu Electric plans to restart a second reactor in the middle of October. Next year another 11 may begin operation, according to Polina Diyachkina, an analyst who has covered Japan's power utilities for three years at Macquarie Group Ltd.
More nuclear plants generating electricity for factories, offices and homes will reduce Japan's import bill for fossil fuels, which contributed to four years of trade deficits that hit a record 12.8 trillion yen ($103 billion) last year.
Yet, dates for restarting more reactors are uncertain owing to tougher procedures set by the Nuclear Regulation Authority following the Fukushima nuclear disaster in 2011, legal challenges and public protests.
"The process is likely to be slow given the time-consuming risk tests, safety reassessments and other checks required," Joseph Jacobelli, an analyst at Bloomberg Intelligence, wrote in an Aug. 6 note. "Anti-nuclear fervor also suggests restarts will be sporadic."
Bloomberg New Energy Finance base forecast in June was for 26 reactors to come online over the next three years.
Japan has 43 reactors and 25 have so far applied for approval to restart. Kyushu Electric's two reactors on Japan's southern island of Kyushu are the first to pass post-Fukushima safety checks and overcome legal challenges.
World Watching
"The safe restart of Sendai is important for Japan and for the worldwide community," Dale Klein, former chairman of the U.S. Nuclear Regulatory Commission, said by e-mail prior to the restart. "It can demonstrate that nuclear energy can play a role in the safe, reliable generation of electricity."
The triple reactor meltdowns at the Fukushima Dai-Ichi station north of Tokyo in March 2011 following an earthquake and tsunami shocked the world. Eight countries halted nuclear construction programs or closed plants.
Others, such as China, suspended construction to study safety lessons from the Fukushima disaster. China has since restarted building nuclear plants.
"In order to avoid a disaster similar to Fukushima, our company wants to provide peace of mind to the region by improving the safety of our nuclear power plant," Michiaki Uryu, president of Kyushu Electric, said in a statement on Tuesday morning after the company deemed the No. 1 reactor at Sendai restarted.
Little Support
Most of the Japanese public don't support the Sendai restart, according to a poll conducted by Mainichi newspaper earlier this month.
"Restart of Sendai is a sad day for Japan," Aileen Mioko Smith, executive director of Green Action, a Kyoto-based anti-nuclear power NGO established in 1991, said by e-mail. "The NRA and Kyushu Electric should explain to the public what to expect with restart of the reactor, inform them of the measures that have been taken to avoid incidents and accidents, and obtain the public's consent."
Protesters, joined by former Prime Minister Naoto Kan who was in office during the Fukushima disaster, gathered outside the Sendai plant on Monday.
"In order to protect people and the environment, we will continue inspecting facilities under the current regulations," NRA Chairman Shunichi Tanaka said by e-mail.
Industry Fallout
Japan won't be able to keep power rates down and tackle climate change without nuclear power, Minister of Economy, Trade and Industry' Yoichi Miyazawa said at a press briefing today.
Post-Fukushima, Japan's nuclear fleet was taken offline, driving up power rates. The electricity rate in Kyushu has increased more than 20 percent between March 2011 and March 2015, forcing local companies like Mitsui Mining & Smelting Co. to raise prices of copper and zinc.
"This has considerably lowered our international competitiveness," said company spokesman Sumikazu Ogata. "We welcome the reactor restarts."
In the meantime, nuclear energy-related commodities have floundered.
The spot price for uranium has dropped 47 percent since March 11, 2011 -- the date of the Fukushima disaster. The restart of the Sendai reactor will not immediately revitalize the uranium market, but it's a start, Rob Chang, an analyst at Cantor Fitzgerald LP, said by e-mail on July 30.
"Sendai on its own will not move the needle for uranium demand or supply," he said. "However, we think it is the first that is hardest to get and that there will be more restarts at a much faster rate once Sendai turns on."
Before it's here, it's on the Bloomberg Terminal.
LEARN MORE