Here's One Sign of Trouble in the Subprime Auto Lending Market
Hitting a speed bump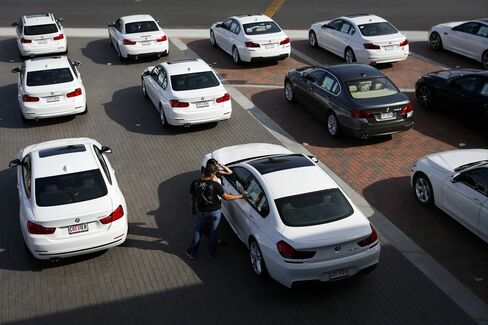 Subprime auto lending has attracted a lot of attention in recent years. New data out this month may show why regulators and investors remain concerned.
Losses on car loans taken out by bad-credit borrowers are continuing to climb, thanks in part to the flood of rookie auto finance companies that have entered the market in recent years. You can see the rise in subprime borrowers struggling to make car payments in monthly data on bond deals sold on Wall Street. So-called subprime auto asset-backed securities (ABS) bundle together car loans and then sell them to big investors.
July reports show that annualized net losses on such bonds—a measure of the cost of bad debt—rose 1.45 percentage points over the past year to reach 6.6 percent last month, according to Nomura analysts.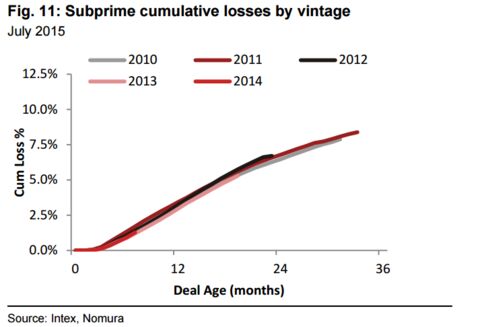 What's driving the rise? Nomura has an idea.
"The significantly weaker performance in the subprime auto sector is being driven by an increase in issuance from the lesser established issuers," researchers led by Lea Overby said in a report.
Smaller, newer bond issuers fueled 37 percent of the sales of subprime bonds last year, up from 27 percent in the previous year, according to Nomura's figures. That share is unchanged for 2015.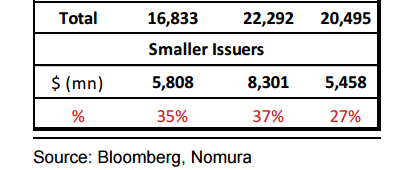 As the small upstarts fight for market share, the concern is that they'll lower their standards too much and drag established lenders with them, inviting even greater trouble down the line. Many of the new players are backed by the biggest private-equity firms, which are under pressure to produce relatively quick returns.
So far this year, about $16.8 billion of bonds backed by subprime auto loans have been sold to , according to data compiled by Bloomberg. That has helped speed car manufacturers' increasing sales figures, which may top 17 million this year for the first time since 2001.
The question is how much farther credit standards can fall in order to keep the party going.
For more, read this next:
Before it's here, it's on the Bloomberg Terminal.
LEARN MORE