Tension Runs High in VIX as Stock Insurance Costs Most Since '06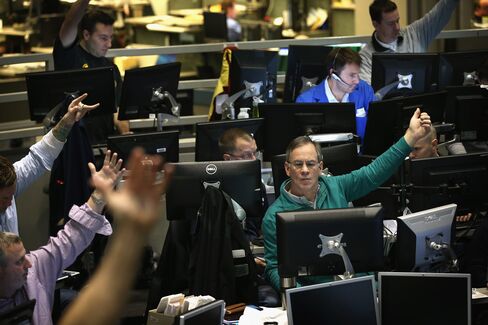 Speculators' appetite for protection from stock-market tempests has reached the highest in nine years.
Options predicting a rise in the Chicago Board Options Exchange Volatility Index are the most expensive since 2006 relative to those betting on a drop. With gains narrowing, investors are hedging through calls on the VIX, which usually rises as the Standard & Poor's 500 Index falls.
"Although the broader indexes have been performing reasonably well and there hasn't been a big selloff yet, there are certain industry groups failing," said Steve Sosnick, an equity risk manager at Timber Hill, the market-making unit of Greenwich, Connecticut-based Interactive Brokers Group Inc. "The market has acted poorly on many measures."
Contracts on the VIX are one of the main instruments investors use to protect stock holdings. They currently own 5.9 million VIX calls, which appreciate as S&P 500 volatility increases, and 2 million puts, which gain value as the market calms.
Storm Protection
Traders bid up protection on the fear gauge last week as U.S. stocks declined, with the Dow Jones Industrial Average posting its worst losing streak in four years. Last week, options betting on a 10 percent rise in the VIX cost 19.1 points more than puts with strike prices 10 percent below the VIX's level, three-month data compiled by Bloomberg show. That's the widest spread since July 2006.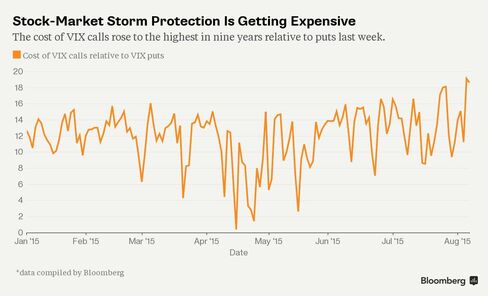 The market's retreat was led by some of the bull market's biggest winners. Media companies suffered their worst rout since 2008 as Apple Inc. and Walt Disney Co. tumbled into corrections. The continued plunge in commodity prices dragged energy shares down for the 14th straight week, the longest stretch in data going back to 1989.
The deluge of selling has yet to knock down the broader gauge, with the S&P 500 only 2.5 percent from an all-time high. The VIX closed at 13.39 last week, more than six points below its historical average of 20. It dropped 8.7 percent to 12.23 at 4 p.m. in New York.
"There has been a lot of dispersion, with big moves up and down in individual stocks," said Dominic Salvino, a specialist on the CBOE floor for Group One Trading LP, the primary market maker for VIX options. "If it continues, it will very likely bleed into the rest of the market, which could increase volatility."
While the S&P 500 has been able to avoid a pullback greater than 5 percent this year, traders are preparing for the worst, building hedges as they watch pockets of the market erode. The benchmark gauge has only gone three years since 1960 without a selloff of that magnitude, according to data compiled by Deutsche Bank AG.
Nervous Feeling
Prospects for the Federal Reserve tightening monetary policy have amplified fears. Traders are pricing in a 54 percent probability of the U.S. central bank raising interest rates in its September meeting, with data Friday showing the labor market chugged along at a pace policy makers want to see before doing so.
Traders in the contracts are especially worried that any weakness on the horizon could accelerate quickly, according to BGC Partners LP's Jared Woodard, similar to the losses they saw last October during a 7.4 percent S&P 500 plunge. During that drop, the VIX jumped as high as 26.25.
"People are concerned about not getting prices they want in a market dislocation," said Woodard, a senior equity derivatives strategist at BGC Partners in New York. "We have known unknowns, in where we know there are things we think are going to happen in terms of monetary policy, but we don't know what the consequences will be."
Extreme caution in VIX options hasn't always preceded equity market weakness. The last time calls cost this much relative to puts, bearish investors were blindsided by an 11 percent S&P 500 rally in the last five months of 2006. Even in the October selloff, stocks quickly recovered, rallying to fresh records by the end of the month.
Still, the market may be more prone to volatility as trading dries up during the summer. August has brought more daily swings of 1 percent or more in the S&P 500 than all but one other month since 1950, according to data compiled by Sam Stovall, a strategist at S&P Capital IQ.
"You can see and feel the nervousness out there," said Randy Warren, who manages more than $100 million at Exton, Pennsylvania-based Warren Financial Service & Associates Inc. "Short-term volatility is definitely on the horizon and we're seeing it creep in. As soon as the calendar turned to August, the market started heading down."
Before it's here, it's on the Bloomberg Terminal.
LEARN MORE