Malaysia Islamic Yield Seen Rising to Record as Bond Funds Flee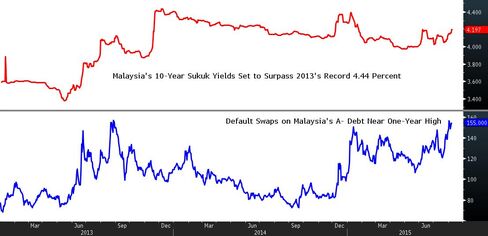 Malaysia's benchmark Islamic borrowing costs are seen rising to a record as global investors exit the nation's government and corporate bonds at the fastest pace in three years.
The yield has climbed 16 basis points to 4.20 percent since July 3, when a Wall Street Journal report into Prime Minister Najib Razak's finances plunged the country into political turmoil. Manulife Asset Management Services Bhd. says the unprecedented 4.5 percent is in sight this year, compounded by falling commodity prices and a potential U.S. interest-rate increase. Pheim Asset Management Asia Bhd. also sees that level being reached as the ringgit slides.
"The domestic political uncertainty, the weakening ringgit, reserves and commodities will add a propellant to the sukuk yield increase," said James Lau, a Kuala Lumpur-based investment director at Pheim Asset overseeing $300 million. "The 10-year sukuk will break the record level because Malaysia isn't immune to the take off in U.S. rates."
A probe by the Malaysian Anti-Corruption Commission that concluded 2.6 billion ringgit ($658 million) that ended up in Najib's personal bank accounts were donations and not from debt-ridden 1Malaysia Development Bhd. has failed to rebuild confidence. The FTSE Bursa Malaysia KLCI Index of equities has dropped more than 10 percent from 2015's high and the ringgit is at a 17-year low. The cost of insuring the nation's bonds from default is also rising.
GDP Report
Overseas investors trimmed Malaysian government and corporate debt holdings by 2.4 percent in July to 206.8 billion ringgit, according to the central bank. They reduced sovereign sukuk by 16 percent to 8.2 billion ringgit, the biggest cut in 10 months. Stocks funds pulled $3 billion from the nation's equities in 2015, the most since 2008.
The predicted rise in borrowing costs would push the 10-year Islamic bond yield above the existing all-time high of 4.44 percent seen in December 2013.
Malaysia's economy has come under pressure as Brent crude prices that have more than halved from their 2014 peak to around $50 a barrel weigh on earnings for Asia's only major net oil exporter. A government report on Thursday may show second-quarter growth slowed to 4.5 percent, the least since the first three months of 2013, according to the median estimate in a Bloomberg survey.
More Optimistic
Maybank Investment Bank Bhd. is more optimistic for yields, and says it would take crude oil below $40, a worsening political situation and a disappointing gross domestic product number to cause a breach of the existing record.
"If things worsen, then investors may rethink Malaysia risks," said Winson Phoon, a Kuala Lumpur-based bond analyst at Maybank Investment Bank, a unit of the nation's biggest lender. "The possible rise in U.S. rates is already being priced-in and domestic funds are still cash rich."
Malaysia's Shariah-compliant banking assets rose to an unprecedented 625 billion ringgit at the end of last year, according to the most recent central bank data, helping support demand for bonds. Sales of corporate sukuk in the world's biggest market for the debt have fallen 34 percent in 2015 to
27.4 billion ringgit from a year earlier.
A slide in Asia's worst-performing currency shows no sign of ending though as Malaysia's foreign-exchange reserves dropped below $100 billion for the first time since 2010 in July. The cost to insure government debt climbed above that for Thailand and the Philippines in 2015, and is two points off a one-year high of 157, CMA prices show.
"The market is volatile now and sudden spikes in yields cannot be ruled out," said Elsie Tham, a senior fund manager at the Kuala Lumpur-based unit of Canada's Manulife Financial Corp. who helps oversee more than $1 billion. "Immediate worries on the ringgit are also keeping investors on their toes."
Before it's here, it's on the Bloomberg Terminal.
LEARN MORE