JPMorgan Chart Gurus Say Don't Get Too Excited About This Rally
Open up your umbrellas, because JPMorgan Chase & Co.'s technical analysts are raining all over today's stock-market parade.
The bank's Jason Hunter and Silvia Seceleanu have a note out saying that the tight trading range in which the U.S. equity market has been trapped this year could give way to a period of weakness heading into the fall.
They point to recent declines in consumer-discretionary and health-care stocks as a bearish signal, since the market-leading groups were the last two major industries to hang onto bullish price trends.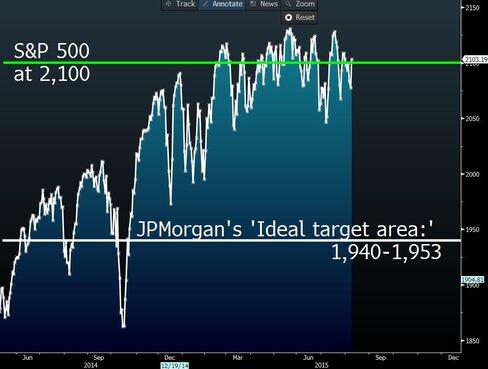 Before today's rally, S&P 500 health-care stocks had lost about 2.5 percent since July 20 and consumer-discretionary shares sank about that much in just three days.
"Those sectors have been the last bullish holdouts, as all of the others have either violated their trends, or entered corrections already," the analysts wrote. "That adds to other signs of internal market weakness."
The loss of momentum in the market and the S&P 500's inability to hold above 2,100, a level it's trying again to trade above today, also play into their thinking. Seasonal weakness in September and early October and growing odds of a Federal Reserve rate increase in September or October are also in the mix, they write.
The result could be a dip to the neighborhood of 1,940-1,953 in the fall, which the analysts call their "ideal targets." A drop to 1,940 would be a slide of more than 9.1 percent from the S&P 500's last record intraday high of 2,134.72 in May.
Enjoy the rest of your summer!
Before it's here, it's on the Bloomberg Terminal.
LEARN MORE