Japan Returns to Atomic Club With Restart Amid Public Opposition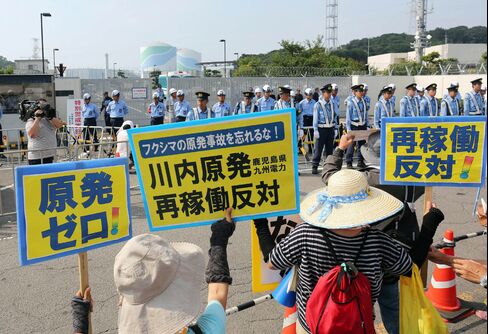 Japan is rejoining the group of nations using atomic power as it sweeps aside public opposition and fires up one of the reactors shuttered for safety upgrades after the Fukushima nuclear disaster more than four years ago.
Kyushu Electric Power Co. will begin bringing online the No. 1 reactor at its Sendai facility on Aug. 11, start power generation as early as Aug. 14 and return it to normal operations next month, the company said in a statement. Two of its reactors on Japan's southern island of Kyushu are the first to pass tougher safety checks set by the Nuclear Regulation Authority, the agency created after the Fukushima disaster, and to overcome legal challenges.
"The Sendai restart is obviously a very big positive for the industry overall and for Kyushu in particular," Polina Diyachkina, an analyst at Macquarie Group Ltd. in Tokyo, said by phone Monday. "Going forward, the restarts approval process will be smoother and faster."
The Sendai restart follows years of evolving safety standards and government approvals in the face of public opposition and court battles as one of the world's richest countries and biggest energy users struggled with how to power its future. The March 2011 earthquake and tsunami that wrecked the Fukushima Dai-Ichi station north of Tokyo was an unprecedented accident that led to the shutdown of all Japan's reactors and shifted attitudes globally on nuclear, with Germany vowing to eventually phase out atomic power.
Japan's nuclear fleet was gradually taken offline in the years since the Fukushima disaster, with the last of the country's 43 operable commercial reactors closed in September 2013. All are now subject to the NRA's safety checks before they can come back online. Kyushu Electric Power aims to restart a second reactor by the middle of October.
Further Approvals
There is still strong opposition to nuclear power in Japan since the meltdown and radiation leaks at Fukushima. A public survey published this month by Japan's Mainichi newspaper showed 57 percent of respondents weren't in favor of restarting Sendai, while 30 percent supported it.
The initial reaction of Japan's government after Fukushima was the same as Germany's -- phase out nuclear power. When elections then put Prime Minister Shinzo Abe in charge, this policy was changed to again include atomic power in Japan's energy future. The economics show one of the reasons.
The loss of nuclear forced Japan to switch on power plants running on fossil fuels. As a result, import costs for liquefied natural gas, coal and oil ballooned causing four years of trade deficits that hit a record 12.8 trillion yen ($103 billion) last year.
Safety Priority
Kyushu spent over 300 billion yen renovating its Sendai and Genkai nuclear plants, according to Tokyo-based Kenji Kawabata, the company's deputy regional director. The restart of one reactor at Sendai will boost the company's profits by 7.5 billion yen a month, he said during a press briefing July 31.
"We will continue to seriously and carefully cooperate with the country's inspections, making safety our top priority, cautiously advancing the restart process," Kyushu Electric Power said in the statement Monday. The Sendai No. 1 reactor has a capacity of 890 megawatts.
Macquarie's Diyachkina expects two reactors at Sendai to restart this year and another 11 reactors to begin operation in 2016.
Two reactors at Kansai Electric Power Co.'s Takahama station, about 60 kilometers (37 miles) north of Kyoto, have received NRA approval, but court challenges have prevented them from restarting.
The NRA also said last month that Shikoku Electric Power Co.'s No. 3 unit at the Ikata nuclear station, about 322 kilometers (200 miles) southwest of Osaka, met its safety standards. The facility is now awaiting approval from local authorities.
"Utilities that have poured in billions of dollars into constructing a nuclear plant are going to fight very hard to operate them," M.V. Ramana, a professor at Princeton University's Program on Science and Global Security, said by e-mail. "Even in the face of overwhelming public opposition."
For more, read this QuickTake: Nuclear Fission
Before it's here, it's on the Bloomberg Terminal.
LEARN MORE