Berlusconi Is Said to Offer His Sardinian Holiday Villa for Sale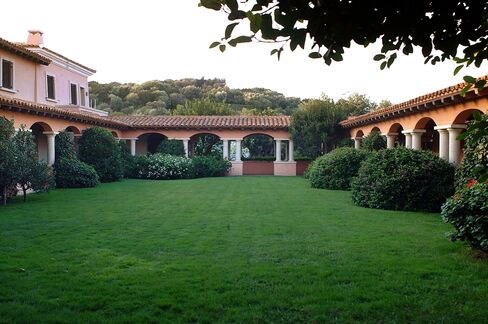 Former Italian prime minister Silvio Berlusconi is seeking to sell a holiday villa in Sardinia where he entertained world leaders including Russian Prime Minister Vladimir Putin, a person with knowledge of the matter said.
Potential buyers have viewed the 4,500 square-meter (48,500 square-foot) Villa Certosa, though none of them has yet made an offer, according to the person, who asked not to be identified because the matter is private. The asking price is 500 million euros ($550 million), Italian newspaper Corriere della Sera reported Friday.
The villa is part of an 80-hectare (198-acre) estate owned by Berlusconi's real estate company, Immobiliare Idra SpA. No one at the company was immediately available to comment. A spokesman for Fininvest SpA, his family's holding company, declined to comment.
The property includes a James Bond-like grotto for guests arriving by sea, an amphitheater, and an erupting artificial volcano, Italian newspapers have reported.
Read this next:
Before it's here, it's on the Bloomberg Terminal.
LEARN MORE