Drug Company Soars More Than 1000% In Just Two Days
Aquinox Pharmaceuticals Inc. soared more than fivefold after an analyst said the drug development company had a better-than-expected shot at getting its treatment for bladder pain and eczema to the market.
The stock climbed to an intraday record high of $55.75 before giving back some gains. It was trading at $29.45 at 12:55 p.m. in New York -- still more than double Friday's closing price and leaps beyond Thursday's close of $1.79. Aquinox was the biggest gainer Monday on the Nasdaq Composite Index.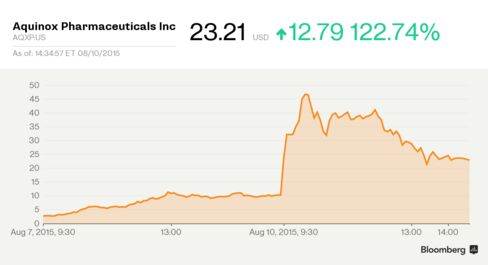 The company said late Thursday it found promising data from a bladder pain study that originally failed. It also said it should have results from a separate eczema study sooner than originally anticipated.
Ritu Baral, an analyst at Cowen & Co., said the drug, AQX-1125, now has a better probability of success for bladder pain and may have some value for eczema.
Aquinox said it will continue to develop AQX-1125 after a review of the failed study appeared to show some benefit for bladder pain. The Vancouver-based company said it will discuss with U.S. and European regulators how to design a final-stage clinical trial.
Baker Brothers Advisors LP, a hedge fund, on Monday reported a 39.8 percent stake in the company in a Securities and Exchange Commission filing. Drugmakers Pfizer Inc. and Johnson & Johnson have also invested in Aquinox.
The company also expects to get the results of another mid-stage study of the drug for treating eczema by the end of the year. It finished enrolling about 50 patients in the research effort early in May, the company said. The medicine failed to benefit patients with chronic obstructive pulmonary disease in a study released earlier this summer.
Before it's here, it's on the Bloomberg Terminal.
LEARN MORE