Dormant Saudi Bond Market Stirs as Oil Kingdom Seeks $27 Billion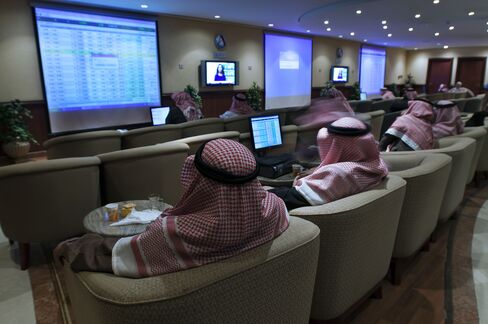 After an eight-year interlude, Saudi Arabia's government bond sales are coming alive.
The desert kingdom that's home to both the world's second-biggest oil reserves and Islam's holiest sites sold on Monday five-year debt with a coupon of 1.92 percent, seven-year notes at 2.34 percent, and 10-year securities at 2.65 percent, according to two people familiar with the matter. The government didn't say how much was sold, though two people with knowledge of the plan said last week it aimed to auction as much as 20 billion riyals ($5.3 billion) as part of a program to raise a maximum of 100 billion riyals by year-end.
The country's renewed appetite for debt comes against a backdrop of deepening involvement in regional conflicts in Yemen and Syria, and a budget deficit that's poised to widen to the most since 1987. For Mazen Al-Sudairi, the program also underlines King Salman's resolve to maintain spending amid a collapse in oil prices, the country's biggest revenue stream.
"Oil prices have given incentive for the government to issue bonds now," Al-Sudairi, the Riyadh-based head of sell-side research at Alistithmar Capital, a unit of Saudi Investment Bank, said by phone on Sunday. The debt sale "also shows the government's confidence in its oil and development policies. We have so many infrastructure and energy projects that will need funding," he said.
Budget Gap
Until this year, Saudi Arabia hadn't issued securities with a maturity of more than 12 months since 2007, according to data compiled by Bloomberg. The government confirmed last month it already sold 15 billion riyals of bonds in a direct sale to private investors. Details of the direct placement, including the price, the maturity and even the date of the sale haven't been made public. The government has yet to confirm the plan to raise as much as 100 billion riyals in 2015.
"The country needs the government to issue debt instruments to develop the debt-capital market," Mohammed Al-Jadaan, the chairman of the Riyadh-based Capital Market Authority, said on Sunday by phone. "We need it to create a risk curve that can be used to measure pricing of debt issuances by other companies."
In June, Saudi Arabia opened its stock market to international investors amid plans to diversify its economy away from oil. The nation's budget deficit may widen to as much as 20 percent of gross domestic product, the International Monetary Fund estimates, after crude prices sank about 50 percent.
"It could be the first step until the country comes to international markets," Montasser Khelifi, a Dubai-based senior manager at Quantum Investment Bank Ltd., said by phone yesterday. "We're not seeing much information, but now hopefully we'll see more information about this and we'll be allowed to participate." (An earlier version of this story was corrected to remove a wrongly attributed comment from Bank AlBilad.)
Saudi Arabia Completes Bond Sale at Low End of Pricing Guidance Saudis Selling Debt on Need-to-Know Basis Keep Analysts in Dark
Before it's here, it's on the Bloomberg Terminal.
LEARN MORE