Art, Not Sotheby's Profit, at Records in Fight for Works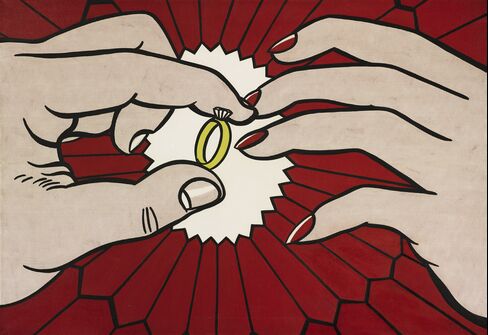 The art market is going from record to record, so why aren't the auction houses making more money?
Sotheby's reported an unexpected second-quarter decline Friday in part because it lost money on a painting that sold for less than anticipated. The news sent its shares down 7.5 percent to $37.49 in New York on Friday, the lowest level in 10 months.
Fierce competition to win trophy artworks is eating into profit at the major auction houses even as paintings and sculptures by Pablo Picasso, Andy Warhol and Alberto Giacometti surge to their highest levels, fueled by growing private wealth and a six-year rally in financial markets. To snag top consignments, Sotheby's and its rivals are offering incentives to sellers such as guaranteeing minimum prices or buying works outright in advance of an auction.
The latest quarter was "rather bumpy," Tad Smith, Sotheby's chief executive officer who took over on March 31, told investors on a post-earnings conference call. "We've made a lot of progress since I joined four months ago, but there's an incredible amount of work to be done."
Annual net income for New York-based Sotheby's peaked in 2007, when global sales of art and antiques reached their previous high of 48 billion euros ($53 billion), according to the European Fine Art Foundation. The art market surpassed that mark in 2014 with 51.2 billion euros in sales. Sotheby's net income last year was about $118 million, 45 percent less than its 2007 total.
Stronger Dollar
The company's second-quarter profit fell 13 percent from a year earlier to $67.6 million after it moved a London sale to the third quarter, and the stronger dollar eroded $11.3 million in auction commission revenue.
Sotheby's said it also lost money on the sale of a major painting it had acquired earlier in the year, declining to provide details about the work.
"This painting was acquired along with another painting that was sold at the same auction for an offsetting profit which will be recognized later in the year when payment is received and title passes to the buyer," Patrick McClymont, Sotheby's chief financial officer, said during the call.
Sotheby's had ownership interests in two paintings offered at its May evening sale of contemporary art in New York, according to an auction catalog where such properties are marked with a small triangle.
One was Gerhard Richter's fiery 1992 abstract work that fetched $28.2 million against the presale estimate of more than $30 million. The second was Sigmar Polke's steamy jungle landscape from 1967 that sold $27.1 million, surpassing the $20 million target and setting a record for the late German artist.
Minimum Guarantees
"The overall deal was profitable but we take the loss side now and the gain later," McClymont said on the call.
Sotheby's lost $8 million in the second quarter by offering guarantees, according to an investor presentation, a figure that doesn't include buyer's premiums. The auction house doesn't comment on the profitability of its guarantee portfolio, a spokeswoman said.
One casualty during the quarter was Roy Lichtenstein's 1962 painting, "The Ring (Engagement)," which fetched $41.7 million in New York and fell short of its presale estimate of about $50 million. The work was guaranteed by Sotheby's to consignor Stefan Edlis, the Chicago-based collector who recently gifted 42 artworks worth at least $400 million to the Art Institute of Chicago.
'Still Early'
Sotheby's revenue during the three months fell 1 percent to $332 million. Its biggest auctions are held during the second and fourth quarters. The company said sales for the first half were $3.7 billion, up 5 percent from the same period last year.
Christie's tally for the same period rose to a record 2.9 billion pounds ($4.5 billion), the London-based company said. Christie's was acquired by Pinault's holding company, Artemis SA, in 1998. The auction house, which doesn't report revenue or profit, releases sale totals twice a year.
"Sotheby's, we think, can earn more but it's still early days in discussing the avenues," David Schick, an analyst at Stifel Financial Corp., said in a report.
Smith said Sotheby's will focus on using its brand to enhance growth in categories including jewelry, automobiles and financial services. The company also needs to beef up its private sales and contemporary art department, he said.
A review of Sotheby's high-net-worth client list "shows that our allocation of resources is not perfectly aligned with our potential clients," Smith said. "We will fix this."
Before it's here, it's on the Bloomberg Terminal.
LEARN MORE