New England Patriots Owner Kraft Resigns From Viacom's Board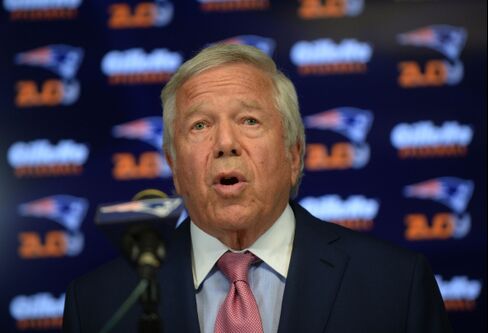 New England Patriots owner Robert Kraft resigned from the board of Viacom Inc., saying he had too many other obligations to remain a director of the struggling media company controlled by Sumner Redstone.
"Obligations elsewhere had increased to the extent that he no longer felt capable of fulfilling his duties," New York-based Viacom said Friday in a regulatory filing.
Kraft's departure, which took effect Aug. 5, came amid a selloff of media stocks, as investors reassess the health of the cable-TV industry. Viacom, owner of MTV, Comedy Central and Nickelodeon, lost 20 percent of its value this week. Kraft is contending with the fallout related to a National Football League investigation of the Patriots' use of under-inflated footballs.
Spokesmen for Kraft and for Viacom had no comment beyond the filing.
The league suspended Patriots quarterback Tom Brady for four games after concluding he was at least generally aware that two team staffers deflated game balls blow the minimum air pressure before last season's conference championship game.
The players' union is suing the league to overturn it. Kraft has said he regrets not taking legal action after Commissioner Roger Goodell on July 28 refused to reduce Brady's penalty.
Viacom gained 3.1 percent to close the week at $45.47, down from $57 a week ago, after reporting third-quarter sales that missed analysts' estimates. The shares have dropped 40 percent this year.
Before it's here, it's on the Bloomberg Terminal.
LEARN MORE