Chobani Said Working With Goldman Sachs to Seek Stake Sale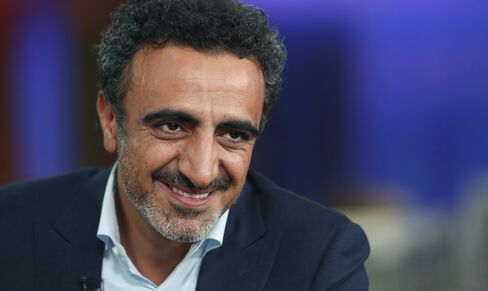 Chobani LLC, the Greek-yogurt maker founded by billionaire Hamdi Ulukaya, is working with Goldman Sachs Group Inc. to explore the sale of a minority stake in the business, according to a person familiar with the situation.
Chobani is looking for an investment from a company that could help increase distribution and production as it looks to meet rising demand for its products, said the person, who asked not to be named because the information is private. The deal may involve a buyout of private equity firm TPG's stake in the company, the person said.
The U.S. food industry has seen a surge of merger activity this year as larger companies, struggling with slowing growth, look to gobble up smaller brands that have had success with natural, organic or healthier products. Chobani, which Ulukaya has said generates more than $1 billion in annual sales, has had several inquiries from large U.S. food companies, the person said.
Michael Gonda, a spokesman for Chobani, and Michael DuVally, a spokesman for Goldman Sachs, declined to comment. Luke Barrett, a spokesman for TPG, also declined to comment.
TPG invested $750 million in Chobani last year, and Kevin Burns, a partner at the firm, has been the yogurt company's interim president and chief operating officer since last August. At the time the loan was made, Chobani agreed to explore the possibility of bringing on a new chief executive officer to replace Ulukaya, who would remain chairman and owner of the company.
Greek Yogurt
Ulukaya, who has remained in the position, introduced Chobani's Greek yogurt, a thick, creamy mix made by straining out whey and water from the fermented dairy product, in 2007. The product was a runaway success, and Greek-yogurt consumption has surged in the U.S., with Chobani leading the growth of the category.
In 2010, Chobani supplanted Fage International's Greek-style brand as the top seller in the U.S., and Chobani's share of the overall U.S. yogurt market grew to 22 percent in 2014, according to Euromonitor.
The explosive growth hasn't been without hiccups. In 2013, Chobani issued a recall of some if its Greek yogurt varieties after a mold issue surfaced at its plant in Twin Falls, Idaho. The $450 million plant, which Ulukaya says is the world's largest yogurt manufacturing facility, opened in December 2012.
Chobani has tried to broaden its appeal with the new tagline "To love life is to live it naturally." The company also has recently seen surging sales of its "Flip" product, which features toppings in a separate cup, with the support of national advertisements.
(A previous version of this story was corrected to fix the name in the photo caption.)
Before it's here, it's on the Bloomberg Terminal.
LEARN MORE