When Wall Street Meets Cord Cutters, Investors Lose $60 Billion
Cord-cutting millennials who shun cable TV have long plagued the entertainment industry. Now they're wreaking havoc on Wall Street.
Media companies led by Walt Disney Co. lost more than $60 billion in market capitalization in two days on mounting evidence of shrinking demand for cable TV and networks like ESPN that make money from ads. So-called cord cutters, who quit paying for pay-TV packages of hundreds of channels and favor online streaming services like Netflix Inc., are undermining a business model that has sustained the TV industry for decades.
It took Disney, a company with a stellar record of sales and profit, to deliver the wake-up call and end Wall Street's 6 1/2 year love affair with traditional media. Disney's disappointing results Tuesday night led to what long-time cable analyst Craig Moffett called swift and unprecedented carnage. The S&P 500 Media Index has since dropped 11 percent -- on pace to be the worst two-day slump since 2008.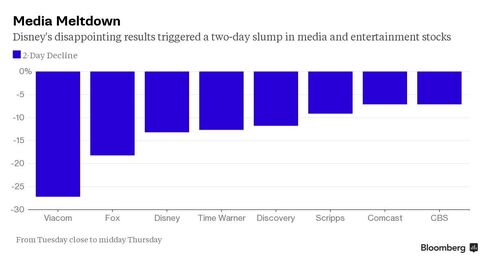 "Almost every investor with whom we have spoken has described an almost palpable sense that sector sentiment has changed, some would say perhaps permanently," Moffett, an analyst at MoffettNathanson LLC, wrote in a note.
Disney's results highlighted the challenges that could be extrapolated to the rest of the industry: falling advertising sales and fewer subscribers at cable networks including the popular ESPN -- meaning lower-than-expected affiliate fees from pay-TV providers. That threatens the two revenue sources that have fueled earnings at media giants including Time Warner Inc.
Sift Through Rubble
After Wednesday's meltdown during trading hours, CBS and 21st Century Fox Inc. failed to allay concerns about the future of TV with earnings marked by shrinking U.S. advertising sales. Viacom Inc., the owner of MTV, Nickelodeon and Comedy Central, added to the fray by posting slumping sales Thursday, sending its shares plunging.
"The Viacom and Fox results did nothing to assuage investors' concerns," said Paul Sweeney, an analyst at Bloomberg Intelligence. "What we are seeing is a classic investor rotation out of the media sector. At some point the market will stabilize and investors will sift through the rubble to identify winners and losers."
For now, the only clear winner is Netflix, which rose 2.1 percent to an all-time high Wednesday as media shares crashed.
The two-day drop in the 15-member S&P 500 Media Index, as of midday Thursday, has wiped out more than $60 billion in shareholders' value. The worst stock in the gauge is Viacom, down 22 percent, followed by Fox at 17 percent and Time Warner with a 14 percent slump. Disney, which started it all, has slumped 14 percent too over the period. And companies like cable-TV giant Comcast Corp., the owner of NBCUniversal, fell in sympathy -- by 7.8 percent.
It's quite a reversal of fortune for the industry. Since global equities bottomed in March 2009, the S&P 500 Media Index had risen more than 400 percent through Tuesday. CBS Corp. was up more than 15 fold over the period.
What's next for the industry? Even seasoned observers are opting to take a back seat until the dust settles.
"We'll be looking for a bigger pullback in valuations and, just as importantly, a qualitative sense that sentiment really has shifted, before we get more constructive," Moffett wrote.
Before it's here, it's on the Bloomberg Terminal.
LEARN MORE