Warren Wannabe: Ackman Channels Buffett With Bet on Mondelez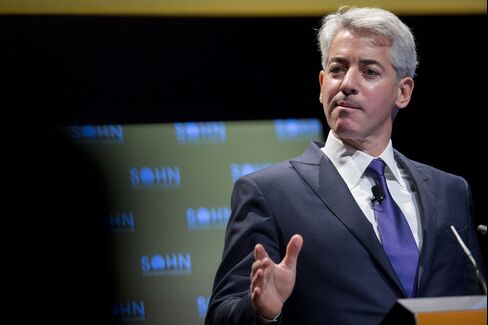 Looks like Bill Ackman has a serious case of Buffett envy.
For years now Ackman, that bad boy of activist investing, has been trying to cast himself in the mold of Warren Buffett. Now he's staking billions on a play straight out of Buffett's book: a big investment in the food industry, via Mondelez International Inc.
The world is full of Buffett wannabes. But few of them have the money -- or the brass -- of Ackman, a billionaire hedge-fund manager with a knack for ruffling feathers. No one, it's safe to say, would ever confuse Ackman with the avuncular Oracle of Omaha. Buffett, 84, tends to take a quieter, gentler approach, as well as a long-term view.
Yet as Buffett marks his 50th year atop Berkshire Hathaway Inc. in Nebraska, Ackman is busily following Buffett's lead from his base in New York. The 49-year-old is taking a long view with at least some investments and has sought more permanent sources of funding for wagers. And now, he's targeting a food giant, only a month after Buffett backed Kraft Foods Group Inc.'s merger with H.J. Heinz. Buffett's partner in that deal, 3G Capital, is already slashing costs at the combined company, showing what could be possible at Mondelez.
If Ackman succeeds like Buffett in building a lasting empire -- through his Pershing Capital Management LP and at Howard Hughes Corp., where he's chairman -- it could vault him into a new, higher league in the pantheon of investing.
"I'm sure that Ackman would prefer to position himself as more than someone who's on fund No. 6 who's seeking to raise fund No. 7," said James Armstrong, who has invested in Buffett's company as president of Henry H. Armstrong Associates. Like millions of investors, Ackman is a big fan of Berkshire. "I'm sure that's a more fun, satisfying model," Armstrong said.
Towering Figure
John Pinette, a spokesman for Ackman at Pershing Square, declined to comment.
Of course, if being Buffett were easy, everyone would do it. Buffett is a towering figure, with one of the best investing records in history. Through 2014, Berkshire's average annual returns were more than double that of the Standard & Poor's 500 Index.
But Ackman, a man with no shortage of self-confidence, hasn't shied away from drawing comparisons. He's certainly following Buffett's lead with the investment in Mondelez, the maker of Oreo cookies. Pershing on Wednesday disclosed a $5.6 billion stake in the company, positioning himself for gains as the industry cuts costs and consolidates.
Similar Philosophies
And Mondelez is just the latest Buffett-esque move by Ackman, who made his name -- and won some enemies -- by betting on or against companies and then waging public campaigns to push stock prices in his favor. Like Buffett, he's invested in a railroad. Lately Ackman also has been saying he's become less inclined to make big public bets against companies, as he did at the supplement company Herbalife Ltd.
"Bill's a fan of Warren Buffett," said Ken Squire, founder of 13D Monitor, which has been tracking funds, including Ackman's, since 2006. Both Ackman and Buffett seek out undervalued companies that have good long-term prospects, he said. "They have similar investment philosophies, to some degree."
Last year Ackman generated an estimated $4.5 billion in profit for investors, after fees, as bets on drugmaker Allergan Inc. and Canadian Pacific Railway Ltd. paid off. It was the biggest gain of any hedge fund.
Buffett's Criticism
Other investments have done well too. He won big on General Growth Properties Inc. By steering the shopping-mall owner into bankruptcy in 2009, he helped it avoid a collapse and generated billions of dollars of gains. Some of the company's properties were spun off into Howard Hughes, which has more than tripled in value since it began trading in 2010.
Buffett himself has at times criticized activist investors for putting short-term profits ahead of long-term value. Ackman, however, has said he takes a long view, too.
"Short-termism is a bad trend for American companies," he said in an interview last year.
Still, Armstrong, the Berkshire investor, said Ackman and Buffett have very different styles. Buffett typically crafts friendly deals behind closed doors, while Ackman is known for waging loud, public campaigns.
"Buffett's model is reliant on good will," said Armstrong. "That reputation is really valuable."
And, of course, Buffett's been succeeding since before Ackman was born.
Buffett and Berkshire have delivered for decades, said David Rolfe, who oversees $11 billion including Berkshire shares as chief investment officer of Wedgewood Partners Inc. "Anybody who can do that for 20, 30, 40 years, that's an exclusive club. That's in the hall of fame."
Before it's here, it's on the Bloomberg Terminal.
LEARN MORE