Striking train drivers who closed London's subway for the second time in a month on Thursday spurned a wage deal that would put them among the rail-industry elite.
London Underground Ltd.'s offer of a 2 percent pay boost followed by at least 1 percent in 2016 would take their annual pay to more than 51,250 pounds ($80,000). That's before a one-off award of as much as 2,000 pounds for drivers opting to work on the night trains around which the strike revolves.
Across the U.K. as a whole, train drivers, most of them in the private sector, get a median salary of 47,956 pounds, according to the Associated Society of Locomotive Engineers and Firemen, so that even with the new deal drivers on the state-run Tube stand to be more than 3,300 pounds better off.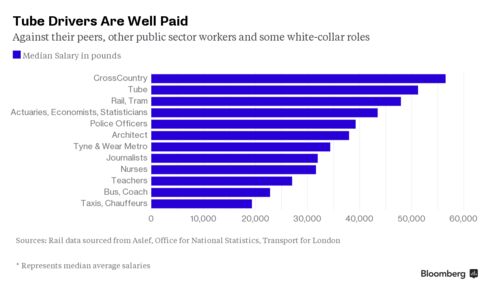 That brings them closer to the best-remunerated U.K. drivers who pilot London-Scotland expresses for Richard Branson's Virgin Trains -- paid about 55,500 pounds according to Aslef -- and those at Deutsche Bahn AG's CrossCountry franchise -- on 56,544 pounds -- who ply routes including an Aberdeen-Penzance service that's Britain's longest, spanning 775 miles in 13 1/2 hours.
Among transport workers, train drivers are already well rewarded, with bus and coach drivers earning a median 22,822 pounds, according to the U.K. Office for National Statistics, and taxi drivers and chauffeurs taking home 19,336 pounds. Operatives on Tyne & Wear Metro trams get 15,000 pounds less.
Public-Sector Leaders
Tube-driver pay also leaves most of the rest of the public sector trailing. Teachers across all education levels -- but excluding private schools and college lecturers -- earn an average 27,058 pounds, nurses get 31,641 pounds and police officers up to the rank of sergeant some 39,263 pounds.
Guiding a train up the Northern Line will also net you more than the typical actuary, economist or statistician -- paid 43,493 according to the ONS -- about 10,000 pounds more than the average architect, and a whole lot more than most journalists.
Aslef says it backs the Night Tube and that the dispute is not about money but "work-life balance and ensuring that the introduction is done in a way that also protects the rights of our members to have quality time off with friends and family."
Drivers and other Tube workers represented by the RMT, TSSA and Unite unions have been promised no change to a 36-hour working week or 43-day holiday allowance with the Sept. 12 start of the Night Tube, brainchild of London Mayor Boris Johnson.
To be sure, train drivers have always been among Britain's blue-collar aristocracy, with the men who commanded steam expresses such as the Flying Scotsman feted by the public as much as the sports stars of their day.
While the task of piloting a 125-mile-an-hour Pendolino between slower passenger and freight services or guiding a commuter train through Europe's busiest rail hub at Clapham Junction remains significant, Johnson has indicated he regards drivers as rather less key to the Tube -- ordering a batch of fully-automatic trains that could dispense with their services altogether next decade.
Before it's here, it's on the Bloomberg Terminal.
LEARN MORE