Jeff Bezos Sells More Than $500 Million in Amazon Shares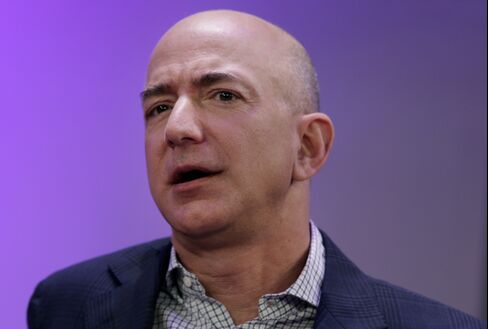 Amazon.com Inc.'s soaring stock price helped to boost proceeds from the sale of 1 million shares by Chief Executive Officer Jeff Bezos this week, allowing him to reap more than $500 million.
The sale was part of a divestment plan, according to a regulatory filing. Bezos sold the stock at weighted-average prices ranging from $529.91 to $539.81, according to the filing. He still owns 82.9 million shares, or 18 percent, of the Seattle-based Web retailer.
The shares of Amazon, which reported a surprise profit in the second quarter, are up more than 70 percent this year. Bezos, who has a net worth of $48 billion, according to the Bloomberg Billionaires Index, founded Amazon two decades ago and is pushing the online retailer beyond sales of books, electronics and household items as the company matures. While the CEO usually pours cash back into growing Amazon's business, he occasionally pulls back on spending to show it can be profitable.
The transaction was in line with Bezos's sales in the past several years. He shed about 6 million shares in 2010, and has moderated that pace to 1 million to 2 million shares in most years since then. This transaction stands out for its value -- the stock has gained more than 50 percent since he last sold 1 million shares, in the first quarter of 2014.
Teal Pennebaker, a spokeswoman for Amazon, didn't respond to a request for comment.
Before it's here, it's on the Bloomberg Terminal.
LEARN MORE