Foxconn Shows 'Make in India' Buzz Tempered by Slow Reforms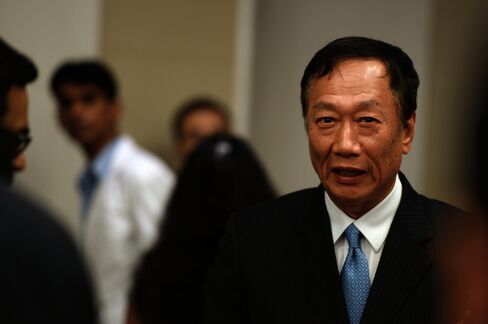 One Indian journalist's question Tuesday to an executive of a foreign manufacturer encapsulated the nation's impatience to build an industrial base.
"What's the big announcement?" the reporter asked Foxconn Technology Group Chairman Terry Gou. The late-night press briefing came hours after Press Trust of India reported that Gou was poised to make Apple Inc.'s iPhones in a venture with billionaire Gautam Adani. If true, it would've been a coup for Prime Minister Narendra Modi's "Make in India" campaign.
"There won't be one big announcement, but many announcements over time," Gou replied, adding that his company may invest more than $2 billion over 10 years if Modi's government improves infrastructure. "We are married to India." Adani Enterprises Ltd. said that no agreement had been signed with Foxconn even though discussions were taking place.
The episode was emblematic of the disappointment since Modi's "Make in India" campaign started 11 months ago with a slick logo of a lion made of cogs. Financial investors who poured money into India on hopes he would spur an economic boom are now dialing down expectations.
"People have the right to be cynical at this point," said Hugh Young, Singapore-based Asia managing director at Aberdeen Asset Management. "Business has got marginally easier, but still there's a very long way to go."
The benchmark S&P BSE Sensex index rose about 2 percent this year, compared with a 30 percent advance in 2014. The rupee is down about 5 percent.
Investment Subdued
Modi swept to power in May 2014 with India's biggest mandate in 30 years after promising to jump start the economy. Part of that plan was to increase the share of manufacturing to 25 percent of gross domestic product by 2022, up from 16 percent -- a policy packaged with a slick "Make in India" website.
Yet Modi's most ambitious reforms -- legislation aimed at easing land acquisitions, overhauling labor laws and simplifying the tax code -- are all stuck in parliament's upper house, where he doesn't have a majority.
Central bank Governor Raghuram Rajan on Wednesday called for clarity on the stalled bills, saying legislative action "would send a strong message to the outside that India is still on the move." A day earlier, he held the benchmark interest rate at 7.25 percent on inflation concerns even while adding that new investment demand remained subdued.
'Taking Shape'
Modi can boast of some success. Foreign direct investment into India rose to $33 billion in the 12 months following Modi's inauguration, according to India's Commerce Ministry, with the services, telecommunications and construction industries taking the biggest share. That's about $10 billion higher than the average of the previous two years.
Sony Corp. shipped its first television sets made in India this week, and General Motors Co. also announced plans to invest $1 billion by 2020 to expand capacity at one plant in India while closing down another factory.
"Sony,Foxconn and many more," Revenue Secretary Shaktikanta Das said on Twitter on Thursday. "Make in India taking shape."
India is unlikely to see its sovereign credit rating upgraded unless reforms such as the land bill and goods and services tax are passed, Moody's Investors Service said on Wednesday. Recent announcements to capitalize state-run banks and measures to rein in the fiscal deficit were positive developments, it said.
Encouraging Year
"I don't think what we have seen so far is out of line with our expectation, unlike some analysts who were expecting a big bang approach," Michael Taylor, a managing director at Moody's, said in an interview. "It has been an encouraging first year, but there is still lots to be done."
Other companies have also made eyeball-grabbing pledges.
Adani Enterprises and SunEdison Inc. are studying a proposal to build a $4 billion solar panel plant.
Foxconn, Japan's Softbank Corp. and Bharti Enterprises Pvt. announced a venture in June which aims to invest $20 billion in solar plants over 10 years. Any investment is "subject to certain conditions," the companies said without elaborating.
Yet whether those announcements translate into money spent on the ground remains to be seen.
Unmet Potential
When Modi was chief minister of Gujarat state, he regularly held investment summits that yielded plenty of pledges that were often discarded. Of nearly 40 trillion rupees ($628 billion) worth of proposed investments at the meetings from 2003 to 2011, about 8 percent were implemented, according to figures published by Gujarat's Directorate of Economics and Statistics.
Gujarat's Finance Minister Saurabh Patel didn't answer calls to his mobile phone. Rajinder Chaudhry, a spokesman for India's Commerce Ministry, didn't immediately reply to an e-mail seeking a list of projects since the start of the campaign and reaction to disappointment among some investors.
"India has always been a difficult country to do business in," said Madan Sabnavis, chief economist at CARE Ratings Ltd. in Mumbai. "It has very good potential, but we have been saying that for a long time."
Before it's here, it's on the Bloomberg Terminal.
LEARN MORE