Adidas Hires Guggenheim to Explore Golf Options Amid Slump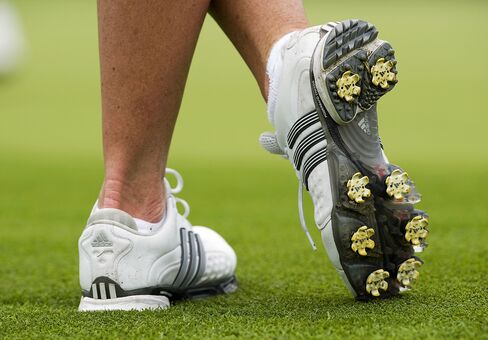 Adidas AG said it hired Guggenheim Partners LLC to look at options for its flagging golf business as the German sportswear maker considers exiting a market that it once led.
Divesting the entire division is an option, though Adidas is primarily discussing options for its lower-priced Adams clubs and Ashworth clothing brands with the investment bank, Chief Executive Officer Herbert Hainer said. Adidas's TaylorMade golf business lost money in the second quarter as sales slumped 26 percent excluding currency shifts.
"We definitely want to look into all corners of the golf business," Hainer said on a conference call with reporters Thursday. "So far we are mainly talking about Adams and Ashworth."
Hainer is streamlining Adidas's business to concentrate on shoes for running, soccer and other sports. He just sold the Rockport walking shoe unit and now golf, a business Adidas entered in 1997 with its acquisition of France's Salomon SA, may be on the block.
Golf is waning in popularity in the U.S. and Adidas now forecasts a full-year sales decline for the business, excluding currency shifts. The company previously expected "significantly improved top-line development" for the unit, which accounted for 913 million euros in sales last year, 6.2 percent of Adidas's total.
Explore Options
Fred Speirs, an analyst at UBS, said TaylorMade could be worth 80 percent to 100 percent of its 2015 sales on an enterprise value basis.
The move to explore options for the golf business comes as Adidas reported second-quarter profit that missed analysts' estimates. Sales rose 15 percent to 3.9 billion euros, topping estimates. Adidas gained 0.8 percent to 75.07 euros at 12:45 p.m. in Frankfurt.
Andrew Taussig, a senior managing director at Guggenheim in New York, is working with Adidas to analyze the golf unit, an Adidas spokeswoman said. Taussig has a history with Adidas, having advised Reebok on its 2006 sale to Adidas for about $3.8 billion.
The company is pouring money into marketing and pushing products to market faster under a plan intended to close a sales gap with Nike Inc., which has widened its lead over Adidas in the U.S. sports-gear market in recent years. Sales of Adidas products rose 8 percent in the quarter, it said.
"Sales growth is robust in the context of a tough comparison versus the World Cup" last year,'' Morgan Stanley analyst Louise Singlehurst said in a note to clients.
Before it's here, it's on the Bloomberg Terminal.
LEARN MORE