Analysts Predict a Compromise Is Coming on a Ukraine Debt Deal
Ukraine and its creditors will both give ground in talks over a $19 billion restructuring with bondholders eventually accepting a principal writedown of 22.5 percent, according to a Bloomberg survey.
The prediction compares with a median estimate for a so-called haircut of 30 percent when the poll was last carried out at the end of May. Of 14 analysts and bondholders surveyed on Wednesday, 10 saw a smaller-than-even probability that Ukraine will freeze debt payments before $500 million of principal falls due on Sept. 23.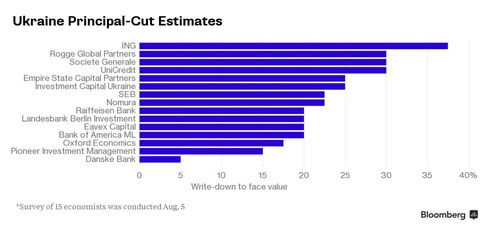 Respondents reduced the size of the writedown they think Ukraine will be able to impose as a creditor group led by Franklin Templeton holds out for better terms. The committee, which owns $8.9 billion of the nation's debt, offered a 5 percent haircut last week, conditional on economic performance, according to a person familiar with the talks. The Finance Ministry was said to be asking for 40 percent in June.
"The government realizes that a 40 percent haircut is not something they will achieve," said Yerlan Syzdykov, the head of emerging-market debt at Pioneer Investment Management Ltd. in London, who sees a 15 percent cut as most likely outcome.
Ukraine needs to save about $15 billion on international bond payments over four years and reduce debt to below 71 percent of gross domestic product by 2020 to meet conditions of an International Monetary Fund bailout aimed at helping the economy recover from a separatist conflict in its easternmost regions.
Losing Momentum
Progress between Ukraine and its creditors may be losing momentum less than a month after direct talks began. The government's latest proposal was said on Wednesday to be unacceptable to the nation's bondholders.
The Finance Ministry agreed yesterday to postpone negotiations until next week, calling on creditors to bring a "revised and improved" offer to the table. Today, the government offered to meet creditors at any location convenient to them, a ministry spokesman said Thursday.
Ukraine's $2.6 billion Eurobond maturing July 2017 fell 1.07 cents to 55.68 cents on the dollar by 3:28 p.m. in Kiev, heading for the biggest daily decline in two months. The nation's Sept. 23 note slipped 0.19 cent to 59.77 cents.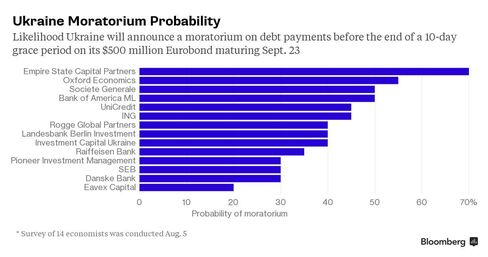 In the Bloomberg survey, responses ranged from expectations for a writedown of as big as almost 40 percent and as small as 5 percent. While one analyst predicted a 70 percent chance for a moratorium on debt payments, four saw the likelihood at 30 percent or less.
"Ukraine must have more interest in reaching a deal than creditors at this stage, and defaulting on debt could complicate the situation," said Gintaras Shlizhyus, a Vienna-based strategist at Raiffeisen Bank International AG, who predicts creditors will take a loss of 20 percent.
Before it's here, it's on the Bloomberg Terminal.
LEARN MORE