Bank of America Merrill Lynch Downgrades Apple for Six Key Reasons
Now down to neutral
Apple is having a tough time. Shares closed at $114.64 yesterday, basically where they started the year despite rising to $134 in April.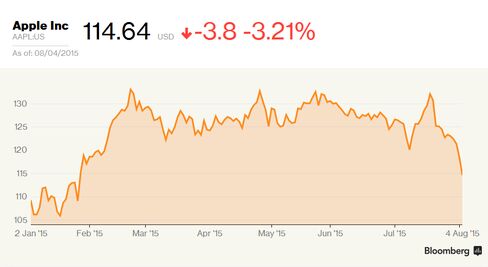 Much of the loss has come in the past few weeks, with the stock falling through its 200-day moving average and entering a correction.
Bank of America analysts Wamsi Mohan, Ruplu Bhattacharya, and Param Singh sent out a note downgrading shares to neutral and lowering their price target to $130 from $142.
The analysts were rather constructive, saying that Apple remains a good company and that they expect continued product achievements in the future, but that the stock isn't currently providing the best risk to reward ratio.
The firm listed six key reasons it expects pressure on shares in the short term: 1) iPhone deceleration, 2) a slowdown in China marketshare gains 3) a deceleration in gross dollar profit growth, which is correlated to stock price, 4) A decline in the magnitude of earnings beats, 5) Only modest improvement to the iPhone coming, 6) low likelihood of more capital return plans.
One argument that some may use to play devil's advocate would be that Apple's valuations are quite attractive compared to its peers. However, Bank of America says that despite the good valuation measures, it is sticking with its call due to Apple's performance in the past.
We do not dispute that valuation metrics remain compelling for Apple; however, in the last down-cycle despite compelling valuation the stock retraced 30%.
Before it's here, it's on the Bloomberg Terminal.
LEARN MORE