Obama's Power Plan May Be Historic But It Won't Save the World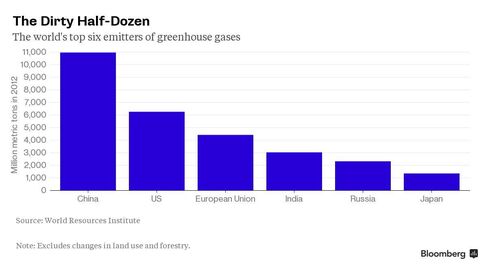 President Barack Obama's plan to reduce carbon pollution -- acclaimed by supporters, reviled by opponents -- won't be enough to save the planet.
That's the view of scientists, including European researchers who study climate policies. It's a numbers game: Even if the U.S., China, Europe and other nations meet their commitments on cutting carbon, world temperatures will rise by 3.1 degrees Celsius (5.6 degrees Fahrenheit) on average by 2100, too much to avoid calamity, they say.
The latest and toughest version of Obama's Clean Power Plan and measures already announced by other world leaders aren't sufficient to limit global warming to 2 degrees Celsius this century. That's what's needed to prevent dangerous changes to the environment, including rising seas, deadly heat waves and disruptions to world food supplies, according to the Intergovernmental Panel on Climate Change, a United Nations-organized panel of thousands of scientists.
"It's worth pointing that out, for everybody who's high-fiving themselves right now," said Paul Bledsoe, a climate aide in President Bill Clinton's administration. "Because we're addicted to cheap energy, we haven't been able to take more ambitious steps."
Not Enough
While the Clean Power Plan released Aug. 3 is more ambitious than previous versions, it's unlikely to make a difference on its own, said Hanna Fekete, a policy analyst at the New Climate Institute in Cologne, Germany.
"The change is too small in comparison to global emissions," Fekete said by telephone. "There are also many other countries driving this."
Yet Fekete isn't despairing. Her organization is one of four European research centers that run Climate Action Tracker, which studies global-warming policies, including Obama's power-plant rules, as well as pledges by Europe, China, Russia and others.
Without action from any of those countries, the world will be in much worse condition at the end of the century, with the temperature rising 3.9 degrees Celsius instead of 3.1, according to Climate Action Tracker.
Her organization sees progress in the new Obama plan. The latest iteration will reduce carbon dioxide pollution by an extra 50 megatons, bringing total U.S. cuts to 530 megatons in 2030, Climate Action Tracker said.
'Remarkable' Plan
That's "remarkable, as governments tend to water down plans after their initial announcements, not strengthen them," the organization said in an e-mail.
Yet the almost 200 countries trying to reach a landmark global agreement on climate change this year are facing a steep climb. Those talks, hampered by disagreements between poor and rich nations, are moving toward a high-stakes meeting in Paris in December.
At the same time, Obama faces a U.S. Congress controlled by a Republican Party that has done little to support his initiatives. Republican congressional leaders also are working with state officials to bring legal action to stop Obama's new effort.
The U.S. accounted for about one in seven tons of greenhouse-gas emissions in 2012, according to the World Resources Institute, a Washington-based research center. America lost its place as the world's leading greenhouse-gas polluter in 2006 and most emissions growth in coming decades is expected to be from developing countries like China and India.
More Needed
The Paris-based International Energy Agency concluded last year that it would take $5 trillion in additional investments in efficiency and new energy supplies, beyond what's already in the works, to reach the goal of keeping global warming to 2 degrees Celsius this century.
Nonetheless, the latest version of the U.S. plan shows momentum toward eventually meeting that goal, Fekete said.
"The number itself is not so important," she said. "What would be important coming out of Paris is to have an agreement that makes clear that what we are starting with is only the lower floor, and from there, ambition has to increase."
As part of the UN talks, the U.S. promised in March to cut emissions by as much as 28 percent by 2025, relying on policies including the power plant limits and stricter fuel-economy standards. The plan released this week targets a cut in power plant emissions of 32 percent by 2030.
Dirtiest Fuel
Its most notable feature is its "very strong move against coal," the dirtiest fossil fuel, according to Nicholas Stern, a member of the U.K. upper chamber, the House of Lords, and a former chief economist at the World Bank.
"It's a strong statement of intention to deliver, and that will be noticed," Stern, now a professor at the London School of Economics, said in a phone interview. "This will add to determination around the world" to reduce emissions.
The European Union has pledged a 40 percent cut by 2030. China has said it would reach an emissions peak by 2030 and will boost its share of electricity from renewable energy. Brazil promised last month to protect an England-sized chunk of the Amazon rainforest, preserving its carbon-absorbing plants.
Still, "a large gap remains between the carbon-cutting pledges that countries, including the U.S., are making ahead of the Paris talks and what science says is needed," said Lou Leonard, vice president for climate change at the Washington-based World Wildlife Fund.
Securing deeper carbon cuts will be a job for Obama's successors in the White House, said John Larsen, who analyzes energy policy for New York-based Rhodium Group. The next president may focus on efficiency or getting more electric vehicles on the roads, he said by telephone. Winning reductions from other industries will also be necessary, and probably even more controversial.
"The politics aren't always great when you're trying to regulate a sector like iron and steel that's been subject to huge amount of foreign competition and is a shadow of its former self," Larsen said. "Those are trickier nuts to crack."
Before it's here, it's on the Bloomberg Terminal.
LEARN MORE