Narendra Modi: A Man Apart
Assessing the prime minister's enormous ambitions, for India and himself.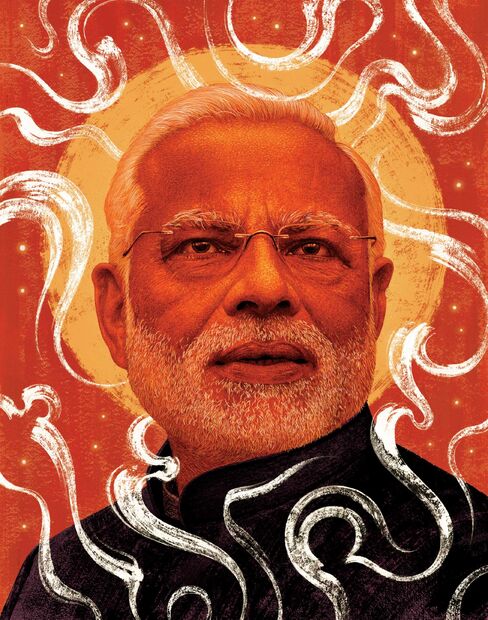 On the evening of Feb. 17, a white sedan pulled up to Shastri Bhawan, a drab brick-and-concrete government building in central New Delhi, and parked at the front gate.
As with most edifices of bureaucracy in India, the streets outside of Shastri Bhawan, named for India's second prime minister, are a jumble of activity during the day: people shuffling by with documents in their hands as shoeshine men wait for business, auto rickshaws honking their way through traffic, snack vendors tending pans of frying lentils.
But at 9 p.m., with a sliver of a moon overhead, the tree-lined boulevards were quiet. Two men climbed out of the car—brothers who'd formerly worked in the building in positions with the official title of "multitasking staff," a lowly position often referred to as "peon" in India's stratified bureaucracy.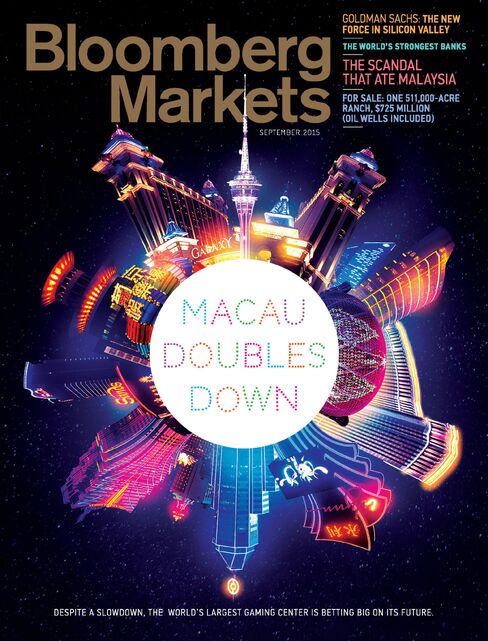 Lalta Prasad, 36, and Rakesh Kumar, 30, were jobless men who both left school after the 10th grade. With fake government passes in hand, the pair strolled in like they owned the place, went upstairs to the Ministry of Petroleum and Natural Gas, and began photocopying piles of documents, according to police reports.
Emerging two hours later with their illicit haul, they walked into the waiting arms of the cops. Prasad had a black bag slung over his right shoulder; inside was a stack of 95 pages ranging from a brief on "Further Opportunities in Sri Lanka" to assorted documents from the ministry's Exploration Division. Kumar carried 109 pages, among them 38 ministry pages marked secret and two more about the national gas grid that were meant for the finance minister's national budget speech.
The theft, leaking, and sale of classified government files to corporations looking for a leg up on competitors has for decades been a staple of Indian corruption. Behind the dense formality of Indian bureaucratic speak and the infamous love of paperwork, government offices are often disheveled spaces with little accountability, manned by officials with a reputation for supplementing low incomes with bribes. That former peons would be distributing secret documents was not surprising.
"We all feigned shock, but that is how it goes," says Mohan Guruswamy, who served as a senior Finance Ministry official in the late 1990s and now runs a policy research center. "Everybody knows that it's happening all the time. It's not something new."
Under the government of Prime Minister Narendra Modi, though, the landscape is changing.
Modi, if you believe his critics, swept to office as a rabid nationalist with a deep authoritarian streak. He was further, they said, a loyal agent of business interests whose history suggested he would pander to CEOs, selling out the nation's welfare in the name of streamlining regulation and cutting red tape.
Instead, Modi has shown signs of encouraging the government to check the influence of the corporate world. It's clear that he expects business to play a role in the nation's growth. It's also clear that, driven by a strong sense of his own political destiny, he expects India Inc. to know its place.
Rather than looking the other way after a break-in was discovered late last year, ministry officials contacted the New Delhi police and asked for an investigation. That eventually led to a stakeout at Shastri Bhawan and the arrest of Prasad and Kumar. The police didn't stop at the former peons; at least 13 people, including executives at seven companies, were charged with taking part in a criminal conspiracy built on the theft of official documents.
The headline grabber was Shailesh Saxena, 45, a manager of corporate affairs at Reliance Industries, which is among India's largest companies. It is run by Mukesh Ambani, India's richest man, with a net worth of $22 billion, according to the Bloomberg Billionaires Index. Saxena, according to New Delhi court documents filed by police, was one of the people who funded the break-ins. He denied the charge through his attorney in court documents. The brothers' lawyer would not comment when reached by phone.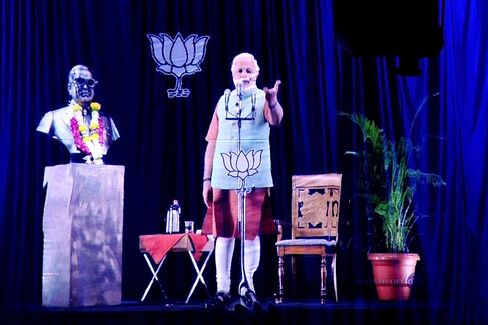 As Modi moves into his second year in office, he has certainly shown pro-business instincts. On trips to capitals around the world, he has trumpeted Make in India, a program seeking to jump-start manufacturing through tax incentives and higher limits for direct foreign investment across many sectors.
He's directed and cajoled ministries and state governments to speed clearances of licenses for projects—efforts that haven't been uniformly successful but that businessmen say have helped. Modi last year told bureaucrats that each department should repeal at least 10 of its rules that are obviously redundant, reduce the number of decision-making levels, and slash forms to one page, according to a letter sent out by Cabinet Secretary Pradeep Kumar Sinha.
Modi has also pushed, to the applause of business leaders, a bill making it easier to use eminent domain to seize land for development projects. The measure has yet to pass parliament, though Modi has used executive powers to temporarily ease land-acquisition rules.
At the same time, however, Modi backed legislation that cracks down on wealthy Indians and companies hiding assets overseas, known as "black money," with fines and prison for tax evaders and those who abet them. The bill became law in May.
Even more disruptive to the Indian way of doing business, executives in New Delhi and Mumbai say, he's shut off much of the personal access for industrial titans to the prime minister's office. The Economic Times, India's largest financial newspaper, came to a similar conclusion. It reported in May, after interviewing more than 20 high-ranking executives, bureaucrats, and politicians about Modi, that "big business says access to the upper echelons of government has declined in dramatic fashion."
A small, but telling, detail: Modi's government last year cut down on memberships for bureaucrats at the Delhi Golf Club, suggesting their place was in the office, not hobnobbing with the rich.
It's an approach to the corporate elite in India that's been more nuanced than many expected; a balancing act that's probably confused his friends and enemies alike.
Modi's father made a living selling tea on a train station platform in the state of Gujarat. At the age of 17, Modi burned family photographs and renounced worldly goods before abandoning his teenage bride—the marriage had been arranged—to set off for the Himalayas.
One of Modi's brothers says he remembers their mother dabbing vermilion on Narendra's forehead and handing over a package of sweets before he left the house. "It is natural that there would be some agony, but the other aspect also is that Narendra bhai"—a term meaning brother—"left the home to do something meaningful," says Prahalad Modi, who now runs a tire shop in Ahmedabad, the largest city in Gujarat.
Narendra Modi, a young man who lived in a house without electricity and borrowed neighbors' irons to keep his school clothes sharply creased, was leaving to study Hinduism. He returned between two and four years later—accounts vary—and then in his early 20s began a lifelong relationship with the Rashtriya Swayamsevak Sangh, a hard-line Hindu nationalist organization.
Modi's introduction to politics in the 1970s was as a volunteer who cleaned floors, fetched milk, and washed the clothes of his seniors at a Gujarat office of the RSS. The organization is controversial. Its supporters say it's a patriotic force working for the betterment of the nation. Its detractors accuse it of stoking religious conflict, and even of fascist tendencies. The group has been banned three times since Indian independence, including during the Emergency, a suspension of democracy by Prime Minister Indira Gandhi from 1975 to 1977. Modi was an underground activist during that time, traveling in disguises that included a Sikh turban.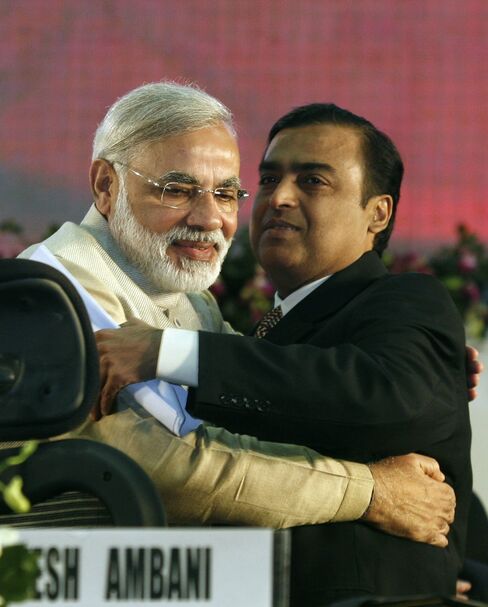 As he worked his way up the RSS ladder, he gained a reputation for being dedicated, completely, to the organization. After an RSS-backed political coalition fell apart at the end of the 1970s, it formed the Bharatiya Janata Party in 1980. Modi became a key organizing force for the BJP in Gujarat, ascending to the state's chief minister in late 2001.
By the time he ran for prime minister, Modi had spent more than 40 years living as a sort of political monk, with little to no family contact and countless days consumed by questions of power and religion.
In the process, Modi's goals have become much bigger than paving the way for any particular company, according to interviews with more than a dozen people who've known or long studied him. "He wants to see himself as politically immortal," says Nilanjan Mukhopadhyay, who first met Modi as a journalist more than 20 years ago and spent time with him for a 2013 biography. "He would want to become part of the pantheon of India's top political leaders."
Modi may even think of himself as India's savior. On the campaign trail in April of 2014, Modi's campaign broadcast a holographic image of the candidate and audio feed to the masses. The show was listed on the BJP website—"Public meeting via 3D"—as beaming out across the country, at bus stands, dusty markets, and sports fields. Modi's image strode across the stage, wearing a tunic and waving to a crowd he could not see before him. "Maybe," he said, "god has picked me for this task."
His decisive victory in the polls brought with it a shift in the nation's capital. "The psychology has been that all your money used to be made in Delhi: Come handle the minister, change the rule, get advance information," says T.S.R. Subramanian, who spent more than 35 years as a civil servant, retired as India's highest-ranking bureaucrat, and has continued to chair government-appointed task forces on issues of development. The Modi government, in his view, is rewriting those rules. "It's very clear: The corporates don't have the kind of access they used to have," he says.
Modi's office didn't respond to repeated requests for comment for this story. Asked about the government's relations with the corporate sector in general and Reliance in particular, Dharmendra Pradhan, Modi's oil minister, would only say: "Our government is policy driven. Everybody is equal in front of the government. We're for transparency."
In Ahmedabad, Nitin Bhatt, a senior vice president for corporate affairs at Reliance, agreed to meet with a Bloomberg reporter at a glass-fronted company office. When asked about Modi, he said, "I don't think I will be able to speak about these things." The interview ended not long after. Requests for comment sent to Reliance spokesmen, followed by written questions, did not result in answers. Neither Reliance nor Ambani has been charged with any wrongdoing in the break-in at Shastri Bhawan. The company released a statement saying it has "no tolerance" for the illegal behavior alleged in the case.
Modi, who turns 65 on Sept. 17, and Ambani, 58, have a history of cooperation and plenty of reasons to be aligned. Their stories are anchored by Gujarat, a west Indian state of more than 60 million people bordered by Pakistan to the north and the Arabian Sea to the west. In February 2002, just four months after Modi became chief minister of Gujarat, a series of sectarian riots left more than 1,000 people dead, most of them Muslim, and Modi's reputation in shambles. There were many at the time who thought his political career was finished; the flash of bloodshed seemed to confirm the worst fears about the dangers of conservative Hindu leadership. (A Supreme Court–appointed panel later found no evidence that Modi gave orders to prevent help for those being attacked, as his opponents had claimed.)
Modi was humbled at a February 2003 New Delhi meeting of the Confederation of Indian Industry, as businesspeople openly questioned the "law and order" situation in Gujarat, according to Indian press accounts at the time. Modi went home trying to mend his reputation. He started an investor conference dubbed Vibrant Gujarat. The idea was simple: Gujarat was still open for business, and for those who came, approvals would be fast.
It was in part the Ambani family that rehabilitated Modi. In July 2003, Modi, with the blessings of the Ambanis, delivered a speech at an event memorializing the late Dhirubhai Ambani, Mukesh's father and founder of the sprawling Reliance empire. "Invoking Dhirubhai's spirit, I say to his family that Gujarat is yours, the responsibility to see it flourish is yours," said Modi.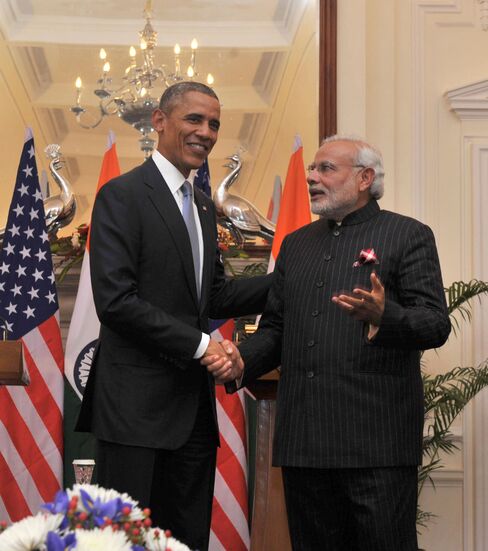 That the Ambanis, in full attendance, accepted Modi there and at other venues sent a powerful signal to all of India that Modi wasn't a pariah and Gujarat wasn't descending into chaos. It helped. Gujarat quickly regained its name as an economic hub, aided by the cash Reliance poured into its projects, including the Jamnagar oil-refining complex, which has grown into one of the world's largest. And Modi—who was denied a visa from the U.S. in 2005 because of the Gujarat riots and didn't enter the country until last year­—became a political star launched ever higher by stories of paving the way for business.
Like the one about how he got Indian tycoon Ratan Tata to set up a car factory in Gujarat. After Tata announced in 2008 that he'd given up on another state, where his plans ran into farmer protests about land seizure, Modi sent him a text message that read "Welcome to Gujarat." Three days later, Modi offered a proposal that snagged Tata. It included land, power, tax exemptions, and a 95.7 billion rupee ($1.5 billion) loan.
As it became clear that Modi would win in a landslide in 2014, the S&P BSE Sensex Index rose to a record level and the fortunes of India's economic elite soared, with Ambani leading the way. From the day before final results were announced, May 15, to the end of the first trading day after, May 19, Ambani's worth grew by $1.9 billion, due mostly to the increase in his company's stock price, according to the Bloomberg Billionaires Index.
The spike in Reliance Industries' stock seemed well-founded at the time: There were several issues that a business-friendly Modi administration could smooth over. Reliance was embroiled in arbitration proceedings with the Indian government over a project in a gas field beneath the Bay of Bengal, off the country's east coast. The company had failed to produce its projected output, and the government, headed then by Prime Minister Manmohan Singh, had moved to penalize Reliance by restricting recovery of its operating costs.
Reliance also found itself in a lawsuit with India's state-run Oil & Natural Gas Corp., which accused Reliance in the Delhi High Court of drawing gas from fields the ONGC believed it controlled, thereby depriving ONGC of tens of billions of rupees. Reliance has denied the allegations.
Atop all that, Reliance had joined gas industry allies in lobbying the government to double the price of natural gas.
Today, arbitration proceedings between Reliance and New Delhi continue. Modi's administration did approve a gas price increase. It was by 33 percent and was accompanied by an announcement that Reliance's gas field won't be eligible for the higher price until the dispute is resolved. And the ONGC lawsuit lingers.
Not everybody is buying the Modi corporate crackdown line. In a speech to the lower house of parliament earlier this year, Rahul Gandhi, vice president of the opposition Indian National Congress party and grandson of Indira Gandhi, hammered Modi on the land acquisition bill. "One thing is perfectly clear," Gandhi said, addressing Modi. "Your government is ignoring the struggles of farmers and doesn't listen to the crying voice of the poor. Your government is the government of industrialists."
Some see the documents investigation itself as a ruse. "I'm sure the government wants you to imagine that" it's going after the business elite, says Mani Shankar Aiyar, who served as oil minister under the previous government. For Aiyar, the documents-heist case is meaningless unless "it leads into boardrooms and reaches up to chairpersons and managing directors."
Or it may simply be that Modi these days likes some billionaires better than others. Coal-and-ports magnate Gautam Adani, worth an estimated $7 billion, has reportedly been an exception to the government access chill. In Modi's first year in office, Adani, founder of Gujarat-based Adani Group, joined Modi on several diplomatic trips as part of business delegations. His company denies any special access. "We have never sought any favor from any government at any point of time," the company said in a letter to Bloomberg in May.
The longer one looks at Modi, though, the more it seems his motivations are more deeply rooted, and plainer, than is appreciated by the political chatter praising or condemning him at New Delhi dinner parties. Ghanshyam Shah, a retired political science professor who has written extensively on governance in Gujarat, describes Modi as a loner who ultimately has ambitions, not friends. "He was and is not an average political leader who believes in petty politics," Shah says. "He has a mission; he wants to be important in history."
Two men who saw Modi consolidate power in Gujarat up close—one a businessman who's known him for a decade and the other a longtime political broker who interacted with Modi for a quarter century—gave similar assessments. Both asked that their names be withheld to avoid trouble with one of the nation's most powerful men.
The politico pointed to the suit Modi wore during U.S. President Barack Obama's visit to India in January. The garment in question had gold-colored pinstripes that on closer inspection continuously spelled out three words—Narendra Damodardas Modi, his full name.
That obsession with self and image, combined with staggering political ambition, defines Modi, the veteran Gujarat politician says. After 25 years, in fact, it's really all he knows about the man. "To make any conclusions about Modi is premature," he says. "Only history will be able to evaluate Modi."
Modi's brother Prahalad says that when he finally reunited with his older brother, some 14 years after he departed for the Himalayas, they spoke about work, not family.
There may have been other things most people would have discussed, but, Prahalad said, "Narendra bhai is a different kind of a person."
This story appears in the September issue of Bloomberg Markets magazine. With assistance from Debjit Chakraborty.
Before it's here, it's on the Bloomberg Terminal.
LEARN MORE