Chile Closer to Ending Pinochet-Era Blanket Ban on Abortions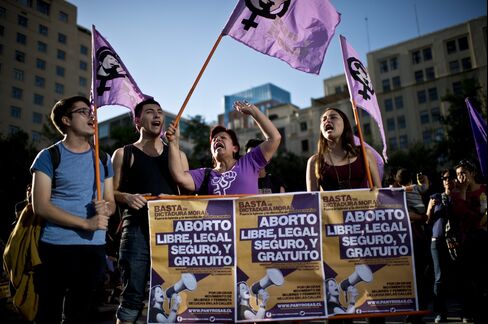 Chile, one of only seven countries in the world with a total ban on abortion, took a step toward ending the outright prohibition put in place during the last months of the dictatorship of Augusto Pinochet.
The health commission of the Chamber of Deputies voted Tuesday eight to five in favor of proposals to allow abortions in three cases -- when the mother's life is at risk; when the baby won't survive and in cases of rape. The bill will now be voted on article by article in the commission before moving on to the full chamber.
Chile is jettisoning its reputation as Latin America's most conservative country as society becomes more pluralistic and the power of the Catholic church wanes. The country became the last in the western world to legalize divorce in 2004 and this year allowed civil unions for same-sex couples for the first time.
"The aim with this bill isn't to impose the government's view, but rather to give women options that they currently don't have," Claudia Pascual, minister of women affairs, said in televised remarks.
The abortion bill still faces resistance from the opposition, which has threatened to challenge the proposals in the constitutional tribunal, and from the Catholic church that published a letter this week calling on lawmakers to reject the bill.
"This is a bill that legalizes all abortions," Gustavo Hasbun, a deputy for the opposition Democratic Independent Union, told reporters Tuesday. "The three causes for abortion have no medical or judicial grounds."
At present, women face sentences of up to five years in prison for an abortion. The only other countries that forbid the practice in all cases are El Salvador, Nicaragua, Honduras, Dominican Republic, Malta and Vatican City.
Chilean health codes allowed pregnancy terminations in cases of risk to the mother's life until 1989, when Pinochet imposed the ban in all cases, a year after losing a plebiscite on the continuation of the military junta.
"The vote reflects the opinion of a majority in Chile, which considers that its time to assume the reality of the more than 30,000 illegal abortions in the country every year," Socialist deputy Juan Luis Castro said after the vote.
Before it's here, it's on the Bloomberg Terminal.
LEARN MORE