U.S. Car Sales Top Estimates With GM, Ford, Fiat Chrysler Wins
U.S. auto sales outpaced analysts' estimates for last month as car buyers snapped up more pickups and SUVs and took advantage of cheap financing.
Nissan Motor Co. beat estimates, as did Fiat Chrysler Automobiles NV, which projected a better month for the industry than the rosiest analyst.
Fiat Chrysler's North American unit delivered 178,027 vehicles in the U.S. last month for a 6.2 percent gain that topped the 4.8 percent average analyst prediction compiled by Bloomberg. The group has reported 64 straight monthly increases. Nissan's July U.S. auto sales rose 7.8 percent, beating the average estimate for a 5.3 percent gain. Ford, GM, Toyota and Honda also did better than projected.
U.S. consumers are choosing SUVs and pickups, taking advantage of relatively inexpensive lending terms and gasoline prices. This surge in demand for profitable light trucks plays to the strength of Fiat Chrysler, which gets most of its sales from pickups, SUVs and vans.
"Strong demand for crossovers such as Rogue and Murano drove Nissan's overall light-truck sales up 22 percent and set a July record for the company," said Fred Diaz, senior vice president, U.S. sales and marketing and operations.
Japan's second-largest automaker by global sales reported July records for the company and for the Nissan brand, which reported sales of crossovers, trucks and sport utility vehicles rose 22 percent. Sales of its luxury Infiniti brand rose 22 percent to 10,433, powered by a 68 percent rise in QX60 SUV sales.
Ford Motor Co.'s light-vehicle sales rose 5 percent, compared with estimates for a 1.8 percent increase, while General Motors Co. deliveries rose 6.4 percent, beating projections for a 0.6 percent improvement. Toyota Motor Corp. reported a 0.6 percent gain, compared with estimates for a 0.1 percent decline from a year earlier, and Honda's 7.7 percent increase topped projections for a 4.7 percent gain.
Fast Pace
Fiat Chrysler's North American unit projected stronger results than analysts had estimated. The Auburn Hills, Michigan-based automaker predicted a July sales pace, adjusted for seasonal trends, of 17.8 million including medium and heavy trucks, which usually account for at least 200,000 yearly sales.
The average of 11 estimates of the light-vehicle selling rate was 17.2 million, keeping the industry on track for its best sales year in a decade. The fastest pace in the Bloomberg survey was for 17.3 million, predicted by Patrick Archambault of Goldman Sachs and Chris Hopson of IHS Automotive.
"Analysts are playing it very conservatively, and we are beginning to consistently see these automakers strongly beat estimates," said Michelle Krebs, an analyst with AutoTrader.com. "There are definitely some economics involved with these strong numbers, such as employment having improved. Again, the story is the same. People are going after SUVs and crossovers."
Analysts predicted that industry sales volume in July will be 1.48 million.
Jeep Boom
Sales of the Chrysler 200 almost doubled to 15,108, helping the three-vehicle Chrysler brand to a 9.7 percent gain for the month. It was the 200's 11th straight monthly sales record. Jeep brand sales jumped 23 percent for its best July ever, as all models posted increases, led by the Wrangler and Cherokee. Ram pickups rose 1.1 percent to 36,019. The small gain delivered the line's best July in 10 years.
Fiat Chrysler's sales-gain streak dates to the 2009 exit from bankruptcy of the automaker formerly known as Chrysler.
Despite the revival, Sergio Marchionne, Fiat Chrysler's chief executive officer, has renewed a push this year for consolidation, contending that the industry's profitability even in peak years doesn't generate enough returns to support investment costs.
Fiat Chrysler needs to boost profit to generate sufficient cash to develop the next generation of vehicles and technologies. Potential merger partners, including GM and Ford, have said they're not interested.
The automaker last week accepted a record penalty from U.S. regulators for mishandling recalls. Profit from North America has helped boost results, letting the Italian-American automaker expand the Alfa Romeo and Maserati brands.
Results from the U.S. are helping. Fiat Chrysler last week raised its full-year earnings forecast after Jeep sales and growth in North America propelled a 58 percent jump in second-quarter profit.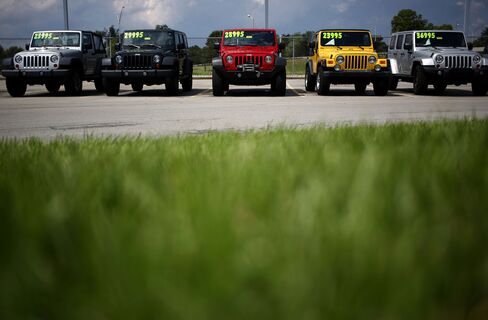 Marchionne said he was able to boost profitability in the U.S. by cutting back on dealer discounts and increasing retail deliveries at the expense of less-profitable sales to rental-car companies and other fleet buyers.
Fiat Chrysler shares rose 1.7 percent to $16.08 at 9:09 a.m. New York time before regular trading. The stock had risen 36 percent this year through Friday.
Before it's here, it's on the Bloomberg Terminal.
LEARN MORE