Emerging-Stock Rout Worsens on Signs of China to Russia Slowdown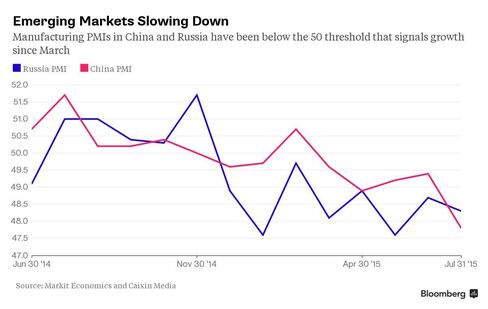 Emerging-market stocks from China to Russia dropped as data showed the slowdown in the two economies is deepening, while Greek equities slumped as they resumed trading. The ruble led declines in currencies as oil slid.
The MSCI Emerging Markets Index fell 1.2 percent to 890.85, the lowest in five weeks. The dollar-denominated RTS Index slumped 2.8 percent in Moscow and the ruble dropped to the weakest level since February as Brent crude dipped below $50 a barrel. PetroChina Co. led losses among energy companies as Chinese factory data missed forecasts. Stocks tumbled 16 percent in Athens after a five-week closure.
Russian stock, bond and currency markets tumbled as manufacturing in the world's largest energy exporter unexpectedly deteriorated in July. The final reading on a private Chinese factory index on Monday shrank more than expected, while an official gauge on Saturday slid to a five-month low, stoking concern that the worsening slowdown will hamper global trade.
"A lower oil price is just one symptom of global overcapacity," according to Daniel Salter, the head of equity strategy at Renaissance Capital in London, who recommends investing in countries that are pursuing government policy changes such as Pakistan, Egypt and Romania.
Since emerging markets benefit from investment in industrial capacity and commodities, "if it takes longer for global capacity constraints to be reached, there's certainly an argument that the emerging-markets story gets pushed out," he said.
Outflows Accelerate
Oil, which entered a bear market in July, retreated on Monday as Iran vowed to boost production immediately after sanctions. Brent crude fell 5.2 percent to $49.52, selling for less than $50 for the first time since January.
Outflows from the developing world have picked up pace. U.S. exchange-traded funds that invest in emerging markets posted $4 billion of net outflows in July, the most since January 2014.
Money leaving eight emerging nations including Indonesia, Thailand and South Africa reached more than $2.5 billion over the past week amid a slump in global commodity prices and concerns about tighter monetary policy by the Federal Reserve, according to a report from Capital Economics.
Banco Bradesco SA led declines in Sao Paulo, slumping 3.1 percent after it agreed to pay $5.2 billion for HSBC Holdings Plc's money-losing Brazil unit. The Ibovespa slipped 1.4 percent.
Sixteen of 24 developing-country currencies depreciated against the dollar. A Bloomberg gauge tracking 20 of the exchange rates weakened for a third day to a record low.
Russia's Slowdown
The ruble declined 2.8 percent to 63.48 per dollar, after sliding 3.2 percent on Friday following a central bank decision to cut interest rates by 50 basis points to 11 percent. While they got a small boost that day, government bonds resumed declines, sending five-year yields up 10 basis points to 11 percent Monday.
Russian policy makers are trying to support an economy that's facing its steepest slowdown since 2009. The nation's purchasing managers' index fell to 48.3 from 48.7 in June, remaining below the 50 threshold that separates contraction from growth, Markit Economics said Monday.
The Shanghai Composite sank to a three-week low as the Chinese Caixin final manufacturing purchasing managers' index slipped to 47.8 in July, the lowest since July 2013. Malaysia's ringgit fell to a 16-year low as data pointed to a contraction in the country's factory output.
The lira lost 0.4 percent to 2.781 per dollar and Turkish stocks slumped 2.2 percent, ending a four-day gain. President Recep Tayyip Erdogan is standing in the way of the formation of coalition government, main opposition CHP leader Kemal Kilicdaroglu said before the last round of scheduled talks with the ruling AK Party on Monday, according to state-run news agency Anadolu.
In Asia, technology shares retreated, dragging an emerging-market gauge of the industry the lowest since March 2014. MediaTek Inc. slid 9.9 percent in Taipei after the chip designer forecast sales that trailed estimates.
Before it's here, it's on the Bloomberg Terminal.
LEARN MORE