DOJ Said to Probe Deutsche Bank on Russia Mirror Trades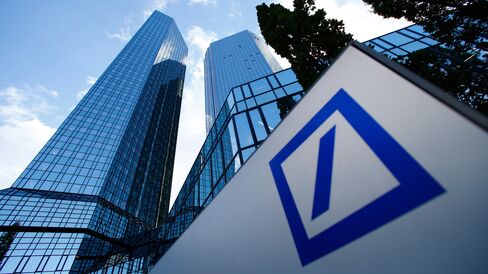 U.S. federal prosecutors are investigating billions of dollars of trades Deutsche Bank AG made on behalf of Russian clients as recently as this year, according to people with knowledge of the situation.
The Justice Department's criminal probe, which hasn't been previously reported, focuses on so-called mirror trades, these people said. Such trades may have allowed Russian clients to move funds out of the country without properly alerting authorities, a person familiar with the situation has said.
The new inquiry adds to the wave of legal woes challenging Germany's largest bank, which has been buffeted by multiple investigations, resignations of top executives and a leaked confidential document in which German regulators alleged senior officials were aware of traders' efforts to manipulate markets.
The probe brings to at least three the number of unresolved U.S. criminal investigations against the bank, including scrutiny of whether it rigged benchmark foreign-exchange rates and violated U.S. sanctions laws. The Justice Department is also looking into the bank's dealings in mortgage- and asset-backed securities.
Deutsche Bank entered into a record $2.5 billion global settlement in April with authorities in the U.K. and the U.S. for manipulating the London interbank offered rate and similar benchmarks. A U.K. unit agreed to plead guilty to a wire-fraud charge.
New Headache
The Russian trades have swiftly become a new headache for the bank. Bloomberg reported on June 5 that Deutsche Bank was conducting an internal investigation of whether $6 billion in trades in Moscow and London were connected with possible money laundering by Russian clients. The bank was examining trades that took place from 2011 through early 2015, people familiar with the situation said at the time of the report.
"The sums we're talking about aren't peanuts," said Andreas Plaesier, an analyst at M.M. Warburg in Hamburg who recommends investors hold Deutsche Bank shares. "If you have several violations across the bank, then it becomes a lot harder to argue these are isolated incidents and that can drive up the fine you have to pay."
Deutsche Bank shares fell 1 percent to 31.68 euros as of 10:00 a.m. in Frankfurt. The benchmark Stoxx Europe 600 Banks Index declined 1.3 percent.
'Significant Volume'
On June 7, the Frankfurt-based bank announced the resignation of co-chief executive officers Juergen Fitschen and Anshu Jain. The bank, in a statement that day, said the two would step down early from their roles, a move that demonstrated "their attitude of putting the bank's interests ahead of their own." The statement didn't elaborate on the reasons for their departure.
Deutsche Bank confirmed July 30 that it was investigating a "significant volume" of suspicious Russian and U.K. trades and said it has taken disciplinary action against a number of people, without specifying the amount or the individuals.
Amanda Williams, a Deutsche Bank spokeswoman, referred to the company's interim report on July 30, which said the bank had advised regulators in countries including Germany, Russia, the U.K. and U.S. of its inquiry. She declined to comment further. Mark Raimondi, a Justice Department spokesman, declined to comment.
The trades under investigation involve stocks bought by Russian clients in rubles through Deutsche Bank, and simultaneous trades through London in which the bank bought the same securities for similar amounts in U.S. dollars, people familiar with the matter have said.
The Bank of Russia approached Deutsche Bank in October requesting the firm examine the stock-trading activities of some clients in the country, said one person, who asked not to be identified because the discussions are private. The Russian central bank doesn't comment on the actions of banks, according to the regulators' press service.
Those mirror trades have also come under scrutiny of New York's banking regulator, a person familiar with the matter has said. The state's Department of Financial Services has asked Deutsche Bank for e-mails, memos, client lists and other documents as it looks into whether those trades were used to help Russian clients skirt U.S. sanctions laws, according to the person. The DFS also asked for information about whether any of the bank's other operations, including those in New York, were connected with the trades, the person has said.