Last week, new lawyers got their first piece of good news in a while. People who graduated law school in 2014 were slightly more likely to be employed than the class before, reported the National Association for Law Placement, which tracks outcomes for law students. That's the first time the job rate has ticked up for new law grads since 2007.
Anyone concerned with the future of the law profession should be thrilled, right? Not necessarily, says the industry's watchdog. One faction of the American Bar Association is arguing that schools are skewing job results, and giving prospective law students hope when they should be serving up realism.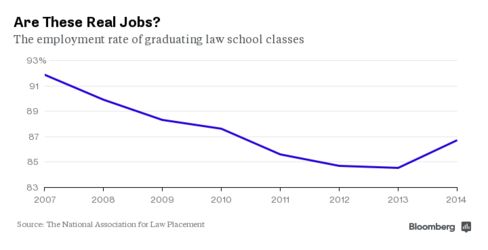 The job market for law grads has been in trouble for many years. To salvage the careers of flailing grads and prop up their own numbers, schools have been shelling out their own money to pay their students' salaries when they leave campus. Schools have to report detailed employment data to the ABA every year, and at a late July meeting in Chicago, the Wall Street Journal reported, the bar association considered discounting any of those jobs in a school's official tally if the position paid less than $40,000 annually and did not last one year.
Having schools create the jobs they are being held accountable for "creates an incentive for gaming that we believe produces unhelpful and misleading results to the prospective student," wrote Christopher M. Pietruszkiewicz, dean of Stetson Law School in Gulfport, Fla., and the chair of the ABA's data committee, in a May memo to colleagues.
Pietruszkiewicz also suggested that the jobs don't reflect market demand for a school's lawyers, but rather a school's willingness to do what the market won't. Eighty-one percent of all funded positions are provided by just 13 percent of law schools, he wrote.
Robert Schapiro, dean of Emory University School of Law, is far more upbeat about what school-funded jobs say about the state of legal education. "A given law school's decision to allocate some portion of its finite resources to the support of such positions for a year or more may well be of great informational value to an applicant," he wrote in a June letter to the ABA.
Emory Law paid for 23 percent of all full-time, permanent legal positions its graduates landed in 2014, according to ABA figures. Emory was the most generous with such jobs of any of the more than 200 ABA-accredited law schools. University of Southern California came in second, paying salaries for 18 percent of graduates who got long-term legal jobs. In general, the schools that ponied up the most to put their grads to work last year were private institutions.
Schapiro added that jobs funded by law schools should fully count in the tally, even if they pay less than $40,000 per year. He suggested that salary threshold amounted to "arbitrary line-drawing."
Most school-funded positions pay between $12,000 and $29,000 per year, according to the NALP, the group that tracks new law jobs. That, at least, sounds better than zero dollars per year, especially for people who paid upwards of $120,000 for a degree, and for the schools that have to account for them.
Before it's here, it's on the Bloomberg Terminal.
LEARN MORE