Japan's Love for Mexico Is Ending as Uridashi Buyers Shun Peso
Percentage of Uridashi sales in pesos headed to four-year low

Mexican peso trading at record lows amid emerging-market rout
For Japanese bond buyers, Mexico's peso just isn't what it used to be.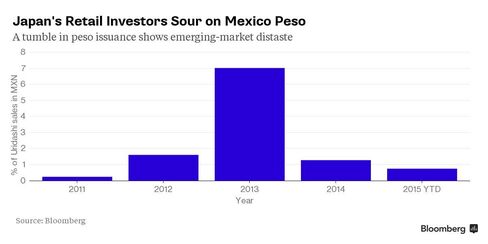 So far this year, only 0.74 percent of the $18.9 billion in notes sold locally to Japanese retail investors have been in pesos, led by 1.36 billion pesos ($84 million) of debt from Rabobank Groep, according to data compiled by Bloomberg. In 2013, peso debt accounted for a record 7 percent of the total of so-called Uridashi notes.
As expectations for the Federal Reserve to raise interest rates for the first time since 2009 send emerging-market currencies to a record low, Japanese households are buying more debt in their national currency and in U.S. and Australian dollars. Buying the peso with borrowed yen has lost 3.7 percent in 2015, which would be the first unprofitable year for the so-called carry trade since 2011.
"Volatility has really scared away investors from dabbling in any of those currencies," said Alejandro Silva, a partner at Silva Capital Management, which oversees $180 million of assets.
Before it's here, it's on the Bloomberg Terminal.
LEARN MORE