Verizon Says No Strike Called as Talks Continue With Unions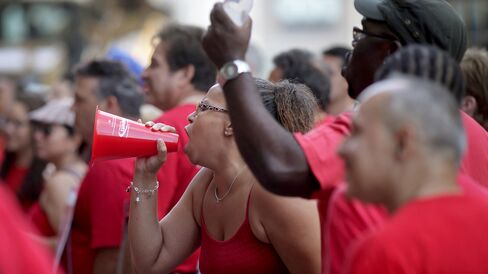 Verizon Communications Inc. said employees will continue to work as negotiations continue between unions and the second-largest U.S. telephone company on an agreement on benefits.
Contracts with the Communications Workers of America and the International Brotherhood of Electrical Workers expired Saturday night at midnight New York time, the company said in a statement.
The telecommunications giant is pushing back against union demands such as increasing tuition assistance and eliminating employee health-insurance contributions, which were instituted for the first time in the 2012 contract. Verizon's initial offer in June included a 2 percent wage increase in each of the first two years of the three-year contract, plus a lump-sum payment in the final year.
"The company has barely moved off its initial June 22nd proposal," Ed Mooney, a vice president for Communications Workers of America, said in a separate statement.
Trimming Benefits
Verizon is seeking to cut costs as U.S. households give up their traditional home phones in favor of mobile technology. The New York-based company wants to negotiate changes to health-care and pension benefits that would make it more competitive, according to a statement on Friday. Verizon would require union employees to choose between continuing to earn pension benefits or receiving company matching funds for an enhanced 401(k) retirement savings plan.
"We are disappointed that after six weeks of good faith bargaining and a very strong effort by the company, we have been unable to reach new agreements with the unions," Marc Reed, Verizon's chief administrative officer, said in a statement on Sunday.
Workers walked off the job for two weeks in 2011 during contract negotiations, which then dragged into the next year. After 15 weeks of talks, an agreement was reached that preserved a ban on layoffs of workers hired before 2003 and restricted Verizon's ability to reassign employees far from their homes.
Verizon has taken measures to ensure that customer service will continue in the event of a work stoppage, according to Richard Young, a company spokesman. Thousands of non-union employees have been trained in recent months to cover for striking workers, he said.
Before it's here, it's on the Bloomberg Terminal.
LEARN MORE