China Official Factory Gauge Slips as Growth Slowdown Bites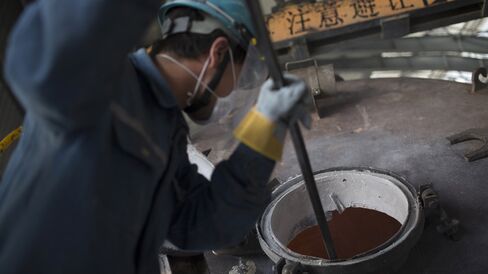 An official Chinese factory gauge slipped to a five-month low, signaling that months of easier monetary policy have yet to kick in and putting pressure on the country's leadership to take further action.
The official Purchasing Managers' Index was 50 in July, compared with the median estimate of 50.1 in a Bloomberg survey and down from June's 50.2. The non-manufacturing PMI, a measure of services and construction, was at 53.9, from 53.8 the previous month. Numbers above 50 indicate expansion.
"The internal and external demand for the manufacturing sector is still on the weak side," Zhao Qinghe, senior statistician at the national statistics bureau, said in a statement released with the PMIs on Saturday. Zhao cited the impact from hot weather, storms and commodity prices as major reasons for the drop.
The data echoes a private PMI that weakened in July, an indication interest-rate cuts and efforts to shore up local government finances have yet to spark a recovery despite recent signs of stabilization. China's leaders pledged in recent days to make "pre-emptive" policy adjustments in the second half.
"This shows that the pickup we saw in the second quarter is not stable; we have seen no sign of recovery in the manufacturing sector," said Zhu Haibin, chief China economist at JPMorgan Chase & Co. in Hong Kong. "We may see manufacturing bottom in the third quarter as the government continues and steps up measures to stabilize growth."
Politburo Pledge
The politburo, a top decision-making body of the Communist Party, said China will pay close attention to downward economic pressure and control systemic risks, the Xinhua News Agency reported Thursday following a meeting of the body chaired by President Xi Jinping.
The government will "ensure the continuity and stability of macro policy" and maintain a proactive fiscal policy and public spending, according to the report. Liquidity should be at an "appropriate" level to serve the real economy, it said.
"Policy makers are significantly more focused on the downward pressure on the economy," Xu Gao and Yang Yewei, analysts at Everbright Securities Co. in Beijing, wrote in a report before the official PMI release. "Monetary and fiscal policy will both remain eased to achieve the government's target of stabilizing and improving the real economy."
'More Difficulties'
The official manufacturing PMI is based on a survey of 3,000 companies. Gauges for different sectors show that the PMI for big companies was 50.6, for medium-sized firms 50, and small ones 46.9, the statistics bureau said. The small companies' index remains in contraction, and "that indicates smaller enterprises face more difficulties when running their businesses," Zhao said in the statement.
The divergence between bigger and smaller companies suggests monetary easing, especially interest-rate cuts, help large companies, said Zhu at JPMorgan. Local government projects tend to give an additional boost to big manufacturers while small companies suffer more from tepid exports, he said.
Premier Li Keqiang has a 2015 growth target of about 7 percent for the world's second-largest economy. Much like last year, a sluggish start spurred more stimulus as the government orchestrated a debt swap for provinces and the central bank accelerated monetary easing, cutting the benchmark one-year lending rate to a record low of 4.85 percent in June.
China's stocks fell Friday, capping the benchmark index's biggest monthly drop since August 2009, as the government struggles to rekindle investor interest amid a $3.5 trillion equities rout.
— With assistance by Xiaoqing Pi
Before it's here, it's on the Bloomberg Terminal.
LEARN MORE