Whole Foods Is Just Another Grocery Chain in Investors' Eyes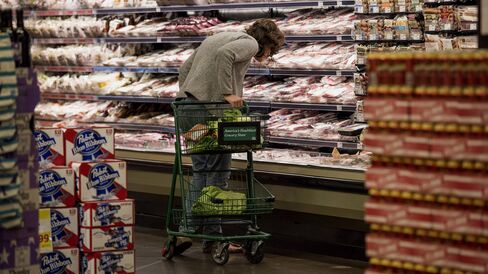 Whole Foods Market Inc. is no longer the Wall Street darling it used to be.
The company, once favored for its massive stock returns and rapid sales growth, used to trade at more than four times rival Kroger Co.'s price-to-earnings valuation. After another disappointing earnings report on Wednesday, the company closed Thursday at just a 3.6 percent premium to Kroger, the lowest in more than six years.
Whole Foods is facing mounting competition from both ends of the grocery-store spectrum. Discounters, such as Wal-Mart Stores Inc. and Aldi Inc., are selling more organics. Specialty stores, such as Sprouts Farmers Market Inc., are expanding as well. Mainstream competitors, meanwhile, are selling more natural and organic food, too. Kroger's Simple Truth line of such goods has reached $1 billion in annual sales, eating into Whole Foods' business.
"Historically their growth rates would dwarf those of the industry," said Joseph Agnese, an equity analyst at S&P Capital IQ. "Those days are over."
Whole Foods shares gained every year from 2009 through 2013, surging more than 12-fold. Last year, the stock fell 13 percent, and the shares have tumbled 28 percent so far in 2015.
A lot of that loss has to do with the chain's slowing sales growth. On Wednesday, Whole Foods said fiscal third-quarter same-store sales rose 2.2 percent, trailing analysts' estimates. Revenue by that measure is up just 0.6 percent for the first three weeks of the current quarter.
Rivals' Sales
Rivals are turning in better numbers. Kroger's same-store sales were up 5.7 percent in the latest quarter, a figure that topped estimates. Comparable-store sales at Sprouts rose 4.8 percent in the most recent quarter.
Along with mounting competition, Whole Foods also is facing national backlash after accidentally overcharging customers at some locations.
"From an investors' standpoint, there's a lack of trust in management," said Joe Feldman, an analyst at Telsey Advisory Group. "It's no longer quite the darling stock."
It was in January 2009, during the most recent U.S. recession, when Whole Foods last traded at a discount to Kroger. Consumers were tightening their purse strings at the time, taking a bigger toll on more expensive retailers. In November of 2008 that year, Whole Foods traded at a 28 percent discount to its Cincinnati-based rival.
Whole Foods, which has about 420 locations, is fighting back the competitive onslaught with a new chain of stores, called 365 by Whole Foods Market. The locations will be smaller and have cheaper wares.
'World Is Changing'
"The new format is our competitive response, our effort to say we recognize the world is changing and we're going to try to do something about it," Co-Chief Executive Officer Walter Robb said in June.
The first 365 store is scheduled to open in Los Angeles next year and will feature a wine bar. Whole Foods is planning to open a total of five in 2016.
While it makes sense to have value- and tech-focused stores that cater to millennials, it may not be a boon for sales, said Brian Yarbrough, an analyst at Edward Jones.
"My concern is: How much does it cannibalize your core Whole Foods Market?" he said.
Before it's here, it's on the Bloomberg Terminal.
LEARN MORE