Uncowed Treasury Buyers Can't Get Enough Even as Fed Hike Looms
Demand was strongest since January for $90 billion of U.S. notes
Not even the Federal Reserve's plans to raise interest rates this year were enough of a deterrence to keep investors away from Treasury debt auctions this week.
Demand was the most since January for $90 billion of U.S. notes auctioned the past three days. Buying was led by indirect bidders, a class of investors that includes foreign central banks and investment funds, even as the Fed issued a policy statement Wednesday and a government report Thursday revealed the pace of economic growth.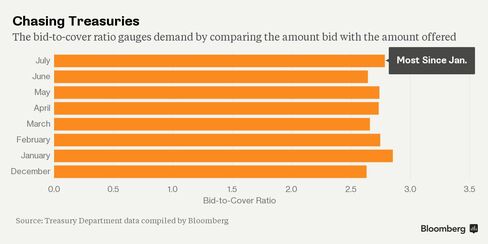 ``The market has already priced in rate hikes over the next couple of years,'' Robert Tipp, chief investment strategist in Prudential Financial Inc.'s fixed-income unit, which oversees more than $500 billion, said from Newark, New Jersey. ``The bias is more for lower yields, than higher.''
Tipp said he recommends purchasing five-, 10- and 30-year debt because of the backdrop of weak economic growth and low inflation.
Investors submitted bids totaling 2.79 times the two-, five- and seven-year notes auctioned this week. For the month, bidding was the strongest at all coupon auctions since February, as the bid-to-cover ratio was 2.84.
This year, the bid-to-cover ratio for the $1.235 trillion of Treasury notes and bonds is 2.84, compared with 2.98 for $2.21 trillion sold last year.
Treasuries also remain attractive as U.S. 10-year securities yield 1.05 percent more than equivalent securities of the Group of Seven countries.
``Treasuries are the only game in town with respect to sovereign debt,'' said Jeff Caughron, chief operating officer in Oklahoma City at Baker Group LP, an advisory company. ``Nothing else offers relative value that's as good.''
Before it's here, it's on the Bloomberg Terminal.
LEARN MORE